Perth has some of the best jet ski hire shops in Australia, based on the incredibly sunny weather conditions and Mediterranean climate.
If cruising around on the calm waterways sounds like fun, then I've got you covered. I'll show you some of the best people around the west.
This list contains the best Perth jet ski hire shops where you can take a PWC for a spin for less than $100, as written by a real Australian.
Let's begin!
Perth Jet Ski Hire
There are some great places if you want to go on a jet ski tour in or near Perth. Some of them will let you take one for a cruise on your own, while others require you to be on a tour.
I would recommend these companies:
Jet Ski Tours Perth in Rockingham
Stag Watersports in Bouvard
Nautical Adventures (Hillarys)
None of these are in particular order.
At this stage, this is the main 3 businesses offering hiring services for PWC enthusiasts and beginners. Compare this to Queensland who has almost 20 different companies offering such tours.
Cost for hire
Unlike Queensland which has a lot of competition, there isn't much competition between vendors in the West. For that reason, hiring a jet ski can be a bit expensive in Perth.
Let's have a look at pricing averages:
| | | | |
| --- | --- | --- | --- |
| Hire length | Self-Hire Pricing | Organized Tour Pricing | Discount |
| 30 mins | $70 | $95 | Set price |
| 60 mins | $130 | $150 | 10% |
| 90 mins | $220 | $250 | 18% |
| 120 mins | $305 | $330 | 23% |
The prices differ between each so it's best to inquire with each company.
What is typical is that the distance for a short-hire is ridiculously short. As soon as you start to have fun, then the tour will be over.
You have to account for 30 minutes of induction time when hiring a jet ski or going on a tour in Perth. This is in addition to the time you'll be riding for. During this time they will go over safety concepts and how the tour will operate, plus where you will go.
How to choose a tour operator
Tour operators do vary between their service offering. I wouldn't necessarily just choose the cheapest operator out there, because the lower pricing could be hiding something.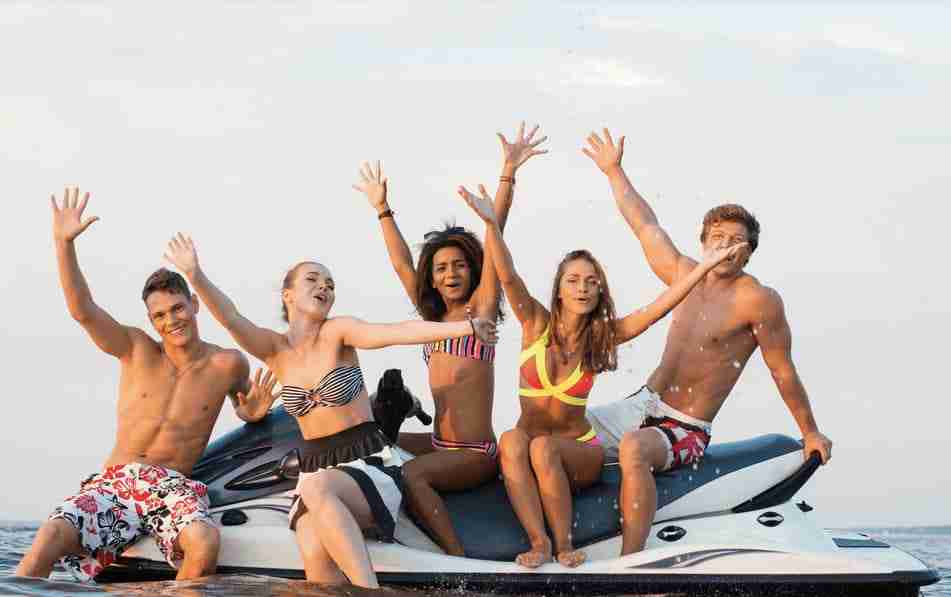 You should really have a think about these factors:
Some will charge extra if a friend wants to join you on the back.
The jet skis that you'll be riding are actually old and slow machines.
Tours can be rescheduled if the weather is bad (without a refund offered)
You might be stuck with some slow riders, so you can't have that much fun.
Some operators take you to some epic spots, but other operators are boring runs.
So it's really good to weigh up what your options are. The best way to do this is by jumping on the websites for each tour operator.
What to wear
If this is your first time hiring a jet ski anywhere in the world, then let me in on some tips. I've been riding jet skis for a while so I know what you'll really need.
Take a towel because yes, you will always get wet on a jet ski tour.
Bring a hat since your head will be quite hot and dry for days after.
Pack your own sunscreen. Some hire shops provide it, but not guaranteed.
If you decide to bring your smartphone for photos, bring a waterproof sleeve.
With most places, you'll be given a wetsuit or jet ski winter jacket to wear. Some people don't realize that Perth can get real cold in the winter months. It is summer where it might be better to buy and bring your own long-sleeve rashie.
Getting started with a PWC tour in Perth
I would recommend that you choose 1 out of the 3 recommendations here. Most importantly, go for a tour that's more than 30 minutes. It just isn't worth it to join a short tour.
If you haven't ridden a jet ski before, then this is a great opportunity to get started in the sport. Likewise, if you now have your jet ski licence in Perth and want some riding experience before buying a jet ski, then going on a tour is a really good idea.
Bring a friend or go solo. Either way, you'll have plenty of fun!