So you want to take a jet ski in dirty rivers, but you're not so sure if it's justifiable. After all, you've heard of the horror stories out there.
Today I want to expand further with my helpful guides with a discussion on riding a jet ski in less than ideal conditions and areas, so everyone can stay safe.
Is it worth the risk? I'll tell you about the dangers of riding a jet ski in dirty rivers or lakes, but how you can still ride safely too!
Let's jump into it.
Dirty rivers and lakes explained
Jet ski riders and PWC enthusiasts love to go riding away from the saltwater oceans and canals. There are immense benefits including the reduced risk of corrosion and the obvious lack of sharks and stingers.
Now, let's not get confused here. You can find plenty of good and clean lakes and river systems around the world. The photo above is one great example.
What I'm referring to is obviously dirty rivers and lakes where other marine traffic is less likely to visit, given the bad conditions. If where you're looking to ride your jet ski is very brown, then it's certainly something that most others would avoid due to being too dirty.
Risks of jet ski riding in dirty lakes/rivers
There are some inherent risks that experience riders talk about, that might not be so apparent for you. For this reason, let me explain some of the riding hazards you might experience.
These include:
Sunken logs which are just under the surface of the water.
Debris such as leaves that get caught in your engine intake.
Staining and discoloration to the paintwork of your jet ski.
Lack of maintenance at river/lake boat ramps (less marine traffic)
Fewer people to help you if an emergency situation happens.
One huge hazard often not talked about is the risk of animal attacks. Yes, this certainly can happen as animals can hide very easily in dirty waterways.
Here in Australia crocodiles can attack jet ski riders if they get too close, so you need to be careful. You'll find crocodiles in Australia north of the Mary River, all the way to Darwin and Broome.
Alligators in the United States have known to chase after jet ski riders who aren't paying attention. Let's not forget the bull sharks either!
Benefits on the flip side
Now with fewer crowds leads to more open riding areas without the hazards of collisions with other riders. So I certainly understand the allure.
One good thing that you can do in dirty lakes and rivers is jet ski fishing. Instead of buying an additional boat, simply ride slowly through the waterways to find a good spot to go fishing.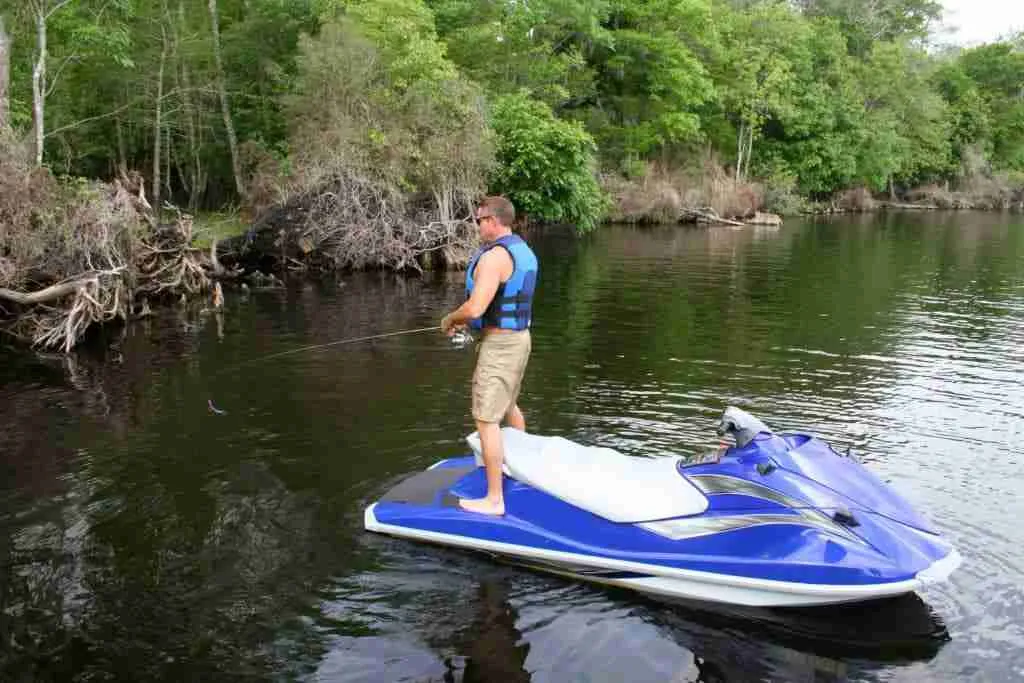 You also get to visit other places that very few people will. You could even just forgo the speed and adrenaline of jet ski riding and just go camping.
Often you can also launch your jet ski in the waterways but cruise out to the open oceans. This gives you the best of both worlds.
Summary
So is it worth it? In some cases – YES. It can be worth it to take your jet ski to a dirty lake or river.
But in most cases – NO. You should strive to look further afield towards a lake, river system or open ocean where you can ride safely and securely.
Jet ski riding is a lot of fun. Having an engine die on you when riding isn't much fun, and in a dirty waterway system, it's unlikely that you're going to get towed back to the boat ramp.
I would personally choose the open ocean or clean lakes/rivers any day of the week.