If you're searching for a gas can for your jet ski, then I've got you covered! I've researched the best PWC fuel storage pods available for 2022.
Having an extra bit of fuel when riding for an entire day is a great idea. It really helps you reach those locations that would otherwise be out of range.
Many people don't have the luxury of supporting boats or having marine fuel stations on the journey. This is why taking a jerry can or gas can is a great idea.
So let me showcase my 3 best recommendations.
Best Jet Ski Gas Cans
Fuel storage on a jet ski is already reasonably good, giving riders 2 to 3 hours of fun without stopping. But what if you could increase that range? With a fuel cell, you certainly can! (alright, that was a bad dad rhyme!)
Now unlike motorcycles where you can swap the factory fuel tank out for a larger one, it's near-on impossible to do this in the PWC market.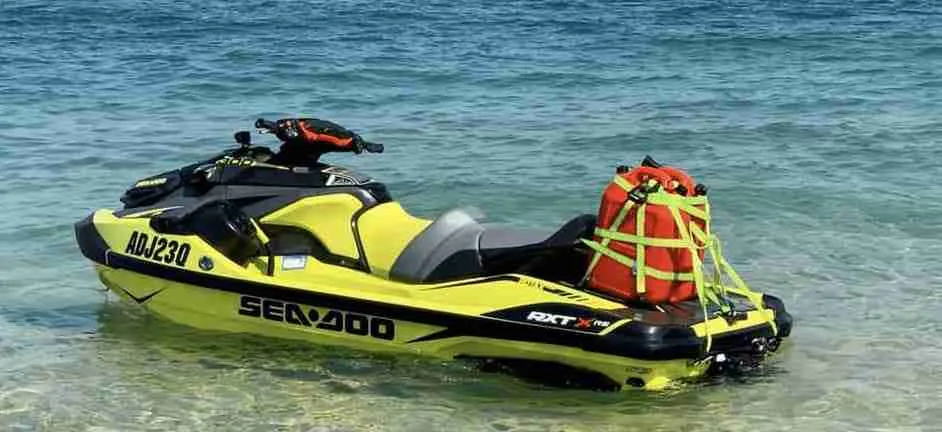 Luckily, bolt-on PWC fuel cans have become a thing. They are a little dangerous in some ways. They could explode on hot days or simply fall off your water ski and not be seen again, creating an environmental issue.
But that aside, there are some great advantages to be found.
Here's my top 3:
This is definitely my favorite on the market. It really has an intelligent design to avoid any spilling when refueling. I like to think of this like simply refueling at the gas station since you don't really have to pour anything.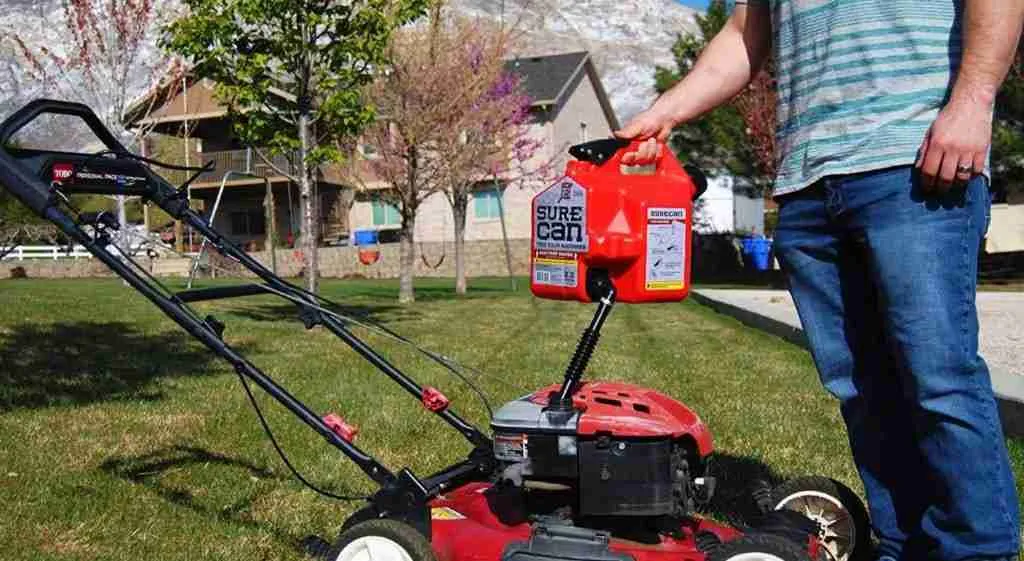 You can buy this in 2.4 gallon and 5-gallon styles. Certainly more expensive, costing up to $49.99 each, but can be worth the cost and frustration when compared to traditional gas cans. These might not be available in your state.
Pros: Total splash-free design. Very high quality. Customers leaving rave reviews.
Cons: Hard to take it with you when riding. A bit expensive.
This is the 2nd best option. This is a clip-on gas can that I hope more manufacturers would adopt into the marketplace. I have seen this on some of the higher-end Sea-Doos recently.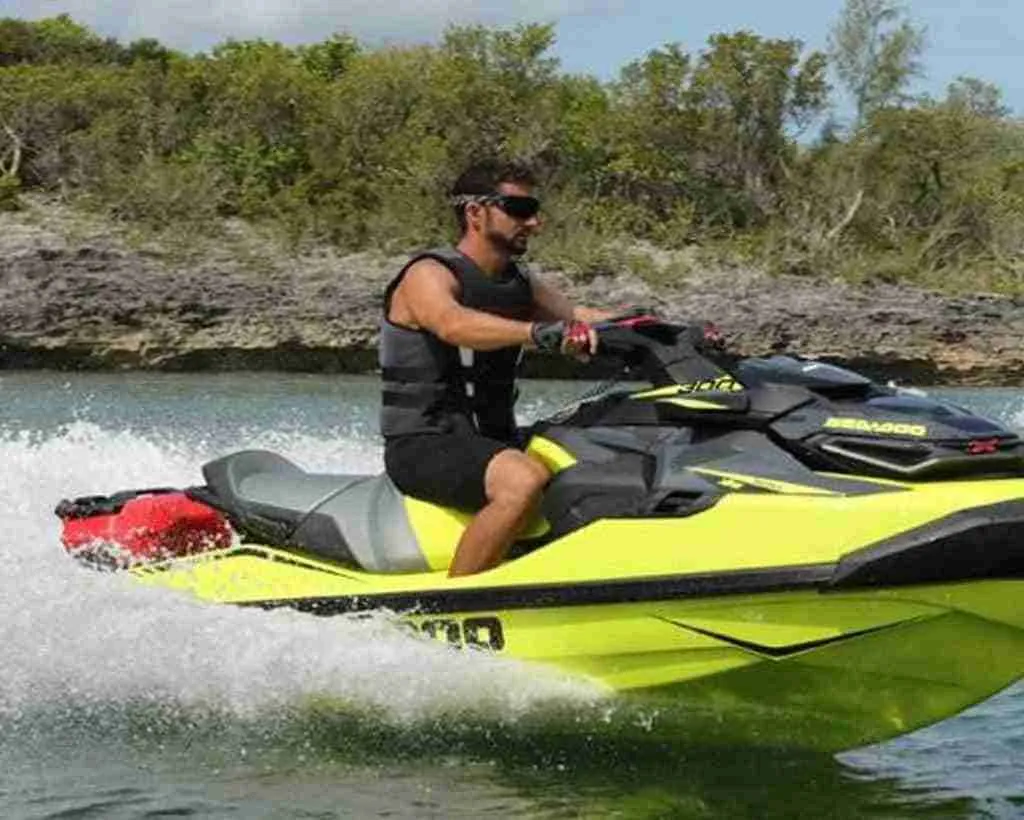 These aren't cheap especially as they are $100+ but certainly, they are reliable. Again, check your state laws to see if these are permitted.
Pros: Clips on securely. Very high quality as it's made by the manufacturer.
Cons: Expensive. Doesn't work for Yamahas and Kawasaki's.
This is a great little gas can that you can even store in your car for emergencies. It is EPA and CARB compliant with the design available in all states.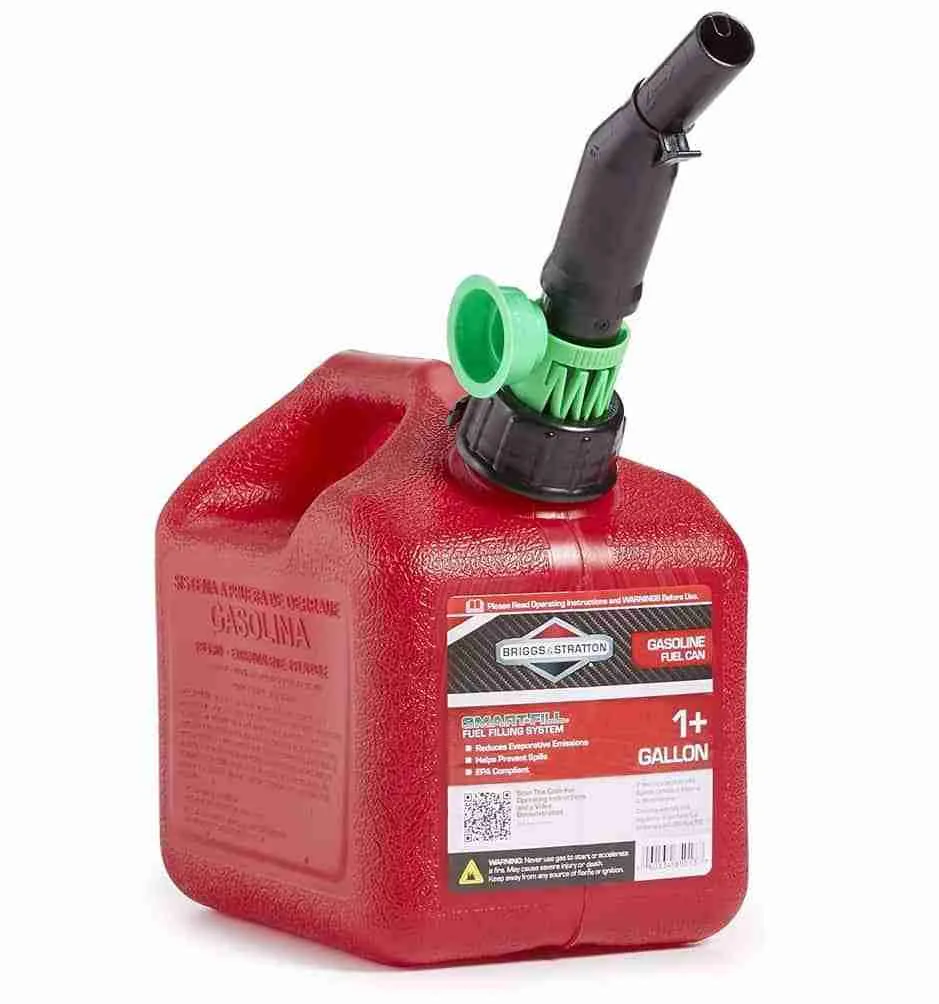 Now, I don't generally recommend these at all. Some other riders have used their PWC storage compartment to store little cans like these without trouble. It will be good to wrap an old towel around it, in case it leaks from the cap.
You can use a ratchet strap on the swimming platform though this isn't that safe or secure either, especially in rough sea conditions.
Other Alternatives
Now taking a gas can on your PWC is a great idea. But many riders don't think of alternatives where they won't need to carry additional fuel.
Because when you're riding with extra fuel on board, you're a little more apprehensive in your riding approach. I find this too when I ride with extra fuel. I'm more conservative, playing it safe whilst others are flying right past me. That's even more true when it's choppy on the lake or ocean.
So here's what you could do instead:
Create a route that takes into account marinas where you can fuel up on the go. You might even get some food and drinks whilst you're there!
Organize fuel drops in advance. If you know that you're going into a remote area, you could drive in and secretly drop some fuel a few days in advance.
Use boat support. The big organized rides always have some support boats that have fuel onboard so jet ski riders don't need to worry.
Consider if it's even worth it. For most riding areas, you'll still get a few hours of decent riding in before the empty warning light comes on.
Simply ride more conservatively. I know that no rider wants to be told this, but if you ride more 'eco' then you'll simply get a bigger range. Plus, if you're riding that far, you won't want to be going 70 miles per hour all day long, otherwise your arms will tire quickly.
All of these will eliminate the need to take that extra jerry can. Remember that the extra fuel at the back is going to affect the performance and handling of your jet ski. Ask yourself: Is this worth it?
Closing Thoughts
In some instances, taking the extra fuel will be worth it. In other times, you can find ways around it which are much safer, plus you'll have a more enjoyable day out on the water.
My recommendation for SeaDoo owners is to use their own fuel cans if you decide that you need that extra range. This is because these clip-on pods are much more reliable than any other model out there, albeit at a higher cost.
Either way, additional fuel can really help to have more fun out there on the water!