Being pulled behind a jet ski is a seriously fun experience that leaves you wanting more! And if you've got young kids, they'll be thrilled this summer to be skirting around corners and getting some airtime with the waves.
Jet skis have more agility and as a result, are much more fun for those on the tubes. Just ensure you buy the right jet ski for tow sports since an underpowered jet ski will struggle in choppy conditions.
So without further ado, here are the best tubes for jet ski owners:
For those with a powerful jet ski, the Airhead Super Mable is my best recommendation. You can fit up to three children and the rear and side lower back support will stop your kids from accidentally falling off when turning corners. While it can fit up to 3 children, it's only possible to have 2 adults on this one given the size and weight restrictions.
I highly recommend this jet ski tube for those who have owned one prior and are looking to upgrade to a more robust product. The Thriller Deck is designed to be more aggressive while being towed and allows for greater speeds and some wave riding. At the same time, I wouldn't recommend it for younger children as it tends to 'skirt' all over the place.
If you want 3 kids (or even adults!) to be laying down while being towed, then the Airhead G-Force towable tube is the best option. I've even seen 4 people on these at once! It's a heck of a lot of fun with plenty of handles to hang on to. Note: If you want to order the 4-person model, it's a bit more expensive.
Nothing says 'Merica like a towing a tube behind a jet ski this 4th of July, and you know the best part? This is also the most affordable on this list. Its quality isn't as high as the Airhead models on this list but that doesn't stop the fun!
The Airhead Super Slice is highly regarded as the perfect all-around choice if you're into tow sports. It packs up small while also allowing up to 4 riders to experience the thrills on the waterways. It's quite basic and isn't designed for speed or thrills, but rather being rigid and helping young riders ease their way into the experience.
I've actually left one of the best tubes until last! This is only designed for 1 person to ride at a time, but is considered to be one of the most puncture-proof tubes in existence. It has 4 handles and a 12-volt pump included. Keep in mind that it can be a little rough going.
FAQs
Many people have contacted Jet Ski Advice during the past few years seeking advice about towing jet ski tubes. Here are the most common questions received:
Do I need to wear a PFD while riding on a tube?
Yes. While a tube is a flotation device by nature, you'll be 100 feet or further away once you fall off and the jet ski slows down to retrieve you. It's a legal requirement in almost every state and jurisdiction to wear a life jacket when riding a tube.
Most towable tubes here are Airhead. Do they sponsor you?
No. While Airhead has definitely been featured most extensively on this list (4 out of 6 options), they coincidently manufacture the best towable tubes on the market for jet skis and ski boats. I would estimate that they 'own' 70% of the market and they have been in the industry for decades.
How old does a child need to be to ride a tube?
5 years old is the youngest that a child would be confident to ride a towable tube in calm conditions, but 7 years old is when you can provide them with some reasonable speed above 20-knots.
What is the biggest tube that a jet ski can tow?
You'll be surprised by how much a supercharged jet ski can tow, easily around 300kgs or 1,000 pounds. Likewise, you'll be surprised by how big of a tube one can handle: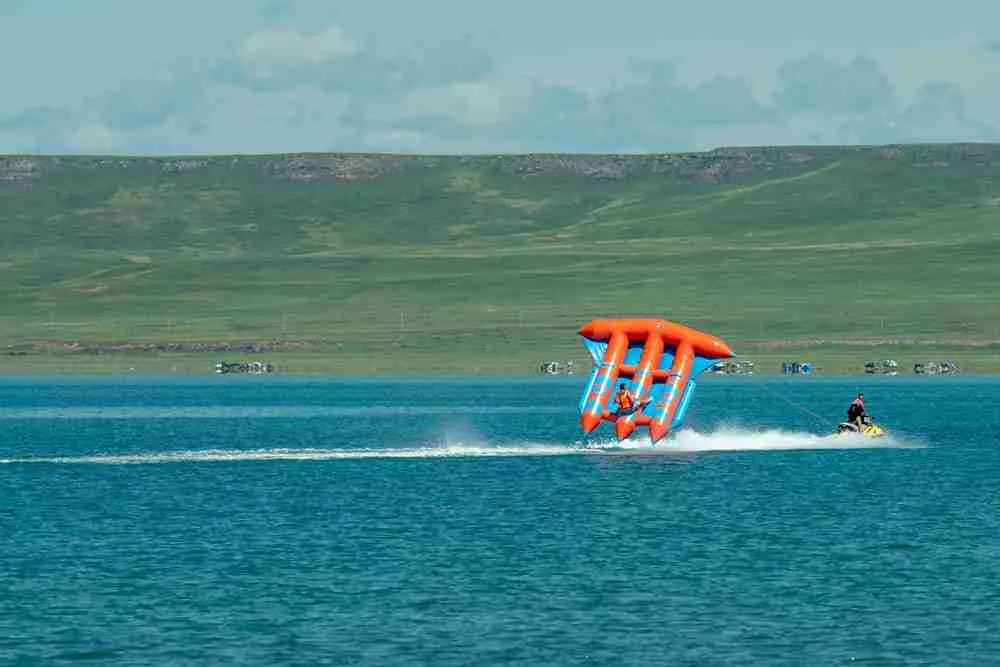 That jet ski owner above has balls! I wouldn't recommend non-supercharged jet skis tow a lot of passengers or opt for a larger tube. Always consult your owner's manual otherwise you may void your warranty.
In Summary
There we have it! 6 epic towable tubes that work best with jet skis. Sure – there are dozens of others out there on the market, but these were handpicked as they can be towed more easily.
Now – don't waste another day of summer. We'll catch you out there on the waterways!