I've seen a massive uptake in the popularity of fishing jet skis in the last 7 years. They have gone from relatively unknown to being quite mainstream.
It's a little wonder too. Boats just cost too much money in my opinion and unlike a fishing boat, a jet ski can be used for multiple purposes such as adventuring and tow sports.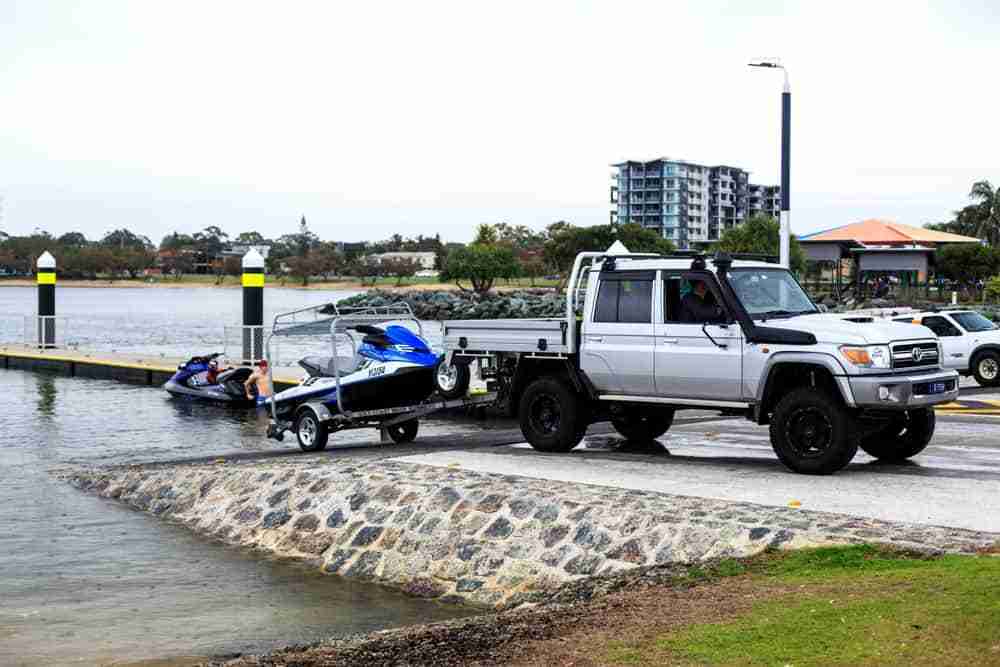 So in this guide, I'll help you find the right jet ski to bag a seriously nice catch!
The most popular fishing jet skis are:
1. 2022 Sea-Doo Trophy 170
Naturally, I'll kick this list off with a jet ski that's absolutely designed for fishing. One that sees guys proudly showing off their catches just about every day in Facebook groups around the world. Most owners are pretty happy with the design characteristics, especially with the wider hull that allows you to stand up quite easily. The only downside? The price which starts at $17,799 USD or $27,309 AUD. Ouch!
Sea-Doo created the Trophy only a couple of years ago after seeing the massive rise in existing owners retrofitting their personal watercraft with a cooler and rocket launchers to hold fishing rods. We've come along way with technology but in the past, such modifications were cumbersome, caused damaged to the bodywork and often voided the warranty. The Trophy 170 very much changed all of this and I'm glad that this model has had a huge uptick in global sales.
2. 2022 Yamaha VX Deluxe
If you don't want to spend all that money and you don't have a desire to be skirting along at 60-knots, then I'd go for Yamaha's VX Deluxe. This jet ski is a recreational model with a rear swim platform that's just big enough to fit a cooler and some rod holders.
Unlike the rest of the VX range which all have a cruiser seat, you can sit on the VX Deluxe seat both ways because it's relatively flat. Considering that most guys fish off the rear of their jet ski, this makes this one a wise choice. The relatively cheap price-point means that you can fit this all out the way you want and still have change left over for fuel rather than spending up on the Fish Pro. I'd personally love to see Yamaha come out with their own unique fishing jet ski, but for now, at least, this is their best option around town.
3. 2022 Sea-Doo Fishpro Scout 130 or 170
I've been a huge fan of the Fishpro 130 for a while. It's very affordable and is designed for budget-friendly fishing adventures. You can get some excellent accessories such as a cooler and rod holders, or even a trolling motor!
If you're looking for a jet ski that is more performance/cruiser orientated, then go for the 170. These are perfect if you're wanting a jet ski to use 80% of the time for cruising around and towing tubes, while using it for fishing the remaining 20% of the time.
4. 2022 Yamaha EX Deluxe
The cheapest fishing jet ski that money can buy is the Yamaha EX, though the EX Deluxe would be better suited as it comes with a reboarding step. These models are more popular with rental fleets given their bare-bones price. If you wanted a jet ski instead of a cheap boat in order to go fishing on weekends and aren't concerned at all about performance then this is a good choice.
Now – a word on safety. Because these are recreational-lite jet skis, they aren't the best for standing up and throwing lines into the water. You won't necessarily tip over if you stand up and lean to the side (much the same way in standing up in a canoe) but it's certainly easier to capsize an EX than their big brothers, the VX series. If your budget permits, I'd certainly choose the VX Deluxe over this model.
Getting Started
So I've now shown you 4 great jet skis which are perfect for outfitting when fishing in the rivers, lakes or even calm oceans. Did you know that I've also written some related guides? That's what Jet Ski Advice is all about – the content!
How do you make your first trip a safe one? Then read my guide about heading out there for an adventure safely: 👉 How To Go Jet Ski Fishing
What accessories can you buy which makes your trip much more enjoyable? Well, I've also created a guide for that: 🤙 Best Jet Ski Fishing Accessories
With that in mind, I'm hooking up the trailer in 5 minutes and heading for the boat ramp. Yes, I'm off for another adventure.
See you out there!