A jet ski can be a great way to experience our local waterways, but buying one that can tow others behind opens up an entirely new world of possibilities.
Personally, I love the notion of being able to use a jet ski for more than one purpose. And considering that most jet skis today have a tow hook at the rear, it's only more reason to make the most of things.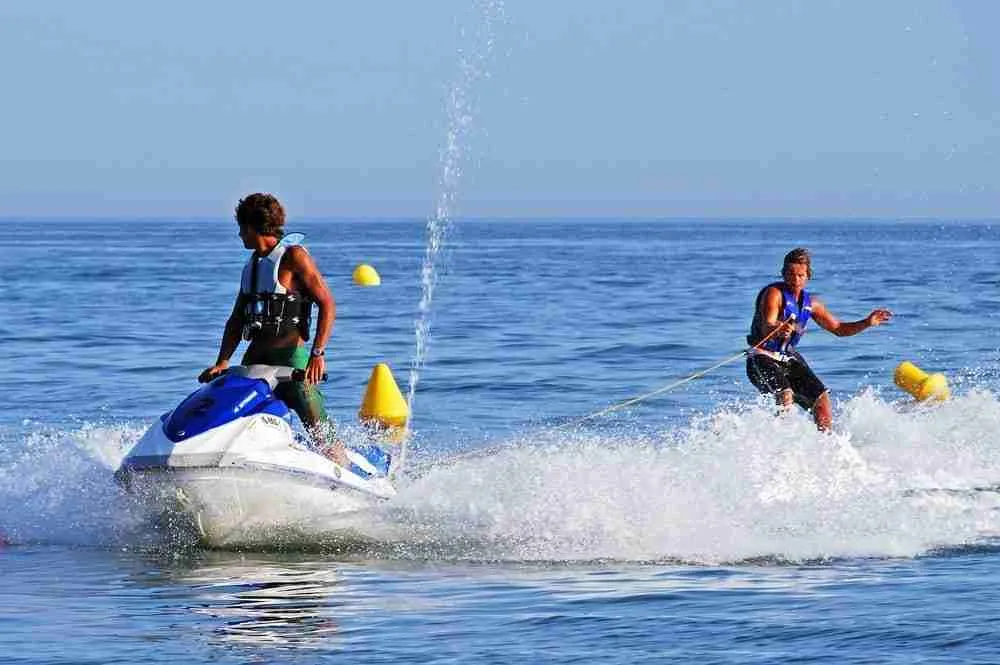 Then again, not all of them are properly set up for towing effective. The Sea-Doo Spark, for instance, can tow tubers but doesn't make for the most enjoyable experience and the engine itself does struggle.
So in this guide, I'll show you 5 jet skis to consider if towing tubes, wakeboarders and waterskiers is your thing. I have no bias in my recommendations and it's based on my own research since I too was looking for the right model for my family.
The most popular jet skis for tow sports are:
1. 2022 Sea-Doo Wake Pro
Did you know that Sea-Doo actually made a model EXACTLY for tow sports? Similar to their fishing model, they listened to the needs of the PWC community and created the Wake Pro 230 and previously it came in a 155 and 170 HP variances.
What's need about this jet ski isn't just the wakeboard rack or the massive space at the rear for passengers to get themselves ready, nor is it the massive amount of storage. It's actually the hull designed matched with the engine technology allowing for a stable ride for those standing. It's not really designed as such for total recreational riding solo, so you wouldn't go reaching 60-knots with this but as for entertaining others, you've got the perfect machine.
2. 2022 Yamaha FX LTD SVHO
Yamaha hasn't really got a jet ski that's created from the ground up for tow sports, but they do have the FX LTD SVHO which is close enough. Its performance specs means that you'll have no problem in having yourself, your spotter and two people at the rear on a large tube. Better yet, you can still ride this on your own and have an awesome time.
3. 2022 Sea-Doo GTI/GTR
I really love the GTR and it's my choice of jet ski here in Australia. In the United States, it's known as the GTI which pumps our 230 horsepower which is more than enough to tow 2 adults on a tube. Better yet, it's more affordable than the Wake Pro while also being more than capable of being ridden in the ocean.
When I head down to my local waterways here, it doesn't take me too long to see this model out there either cruising around or towing others with a smile on everyone's face. If you're aiming to ride solo 70% of the time and tow others 30% of the time, then this is a great option as the perfect middle ground.
4. 2021 Yamaha FX Cruiser HO
A good alternative to Sea-Doo's GTR230 is the FX Cruiser HO. It sits in the performance category while also being reasonably affordable and easy to handle. Its super-charged engine can give a bit of a boost to those needing to stand up quickly, while the deep seats provide something for the riders to brace on to, together with a good-sized swim deck for getting set up.
5. 2022 Yamaha VX Limited HO
The last on my list is the Yamaha VX Limited HO. This is in Yamaha's recreation category and it wouldn't be my first choice when it comes to a jet ski for tow sports because the naturally aspirated engine can struggle to get water skiers up on plane. You see – it's not just about engine capacity but acceleration capacity too. If you're simply towing your kids around on tubes or even a banana boat, then this is no problem at all. Best of all, it's roughly half the price of all the other models on this list!
Getting Started
Now that you've got some fair idea of what jet ski you'll want to buy, now it's time to head into the dealerships. Both Yamaha and Sea-Doo have competitive financing options so you can ride away without spending a fortune. I'd budget around $2,000 for the extras such as a trailer, registration, insurance, life jackets and tubes for some fun future weekends on the waterways!
Happy hunting and I'll see you out there real soon!