One of the most overlooked things is navigation with jet ski GPS, either mounted or handheld. Having some technology can be really helpful.
Some people get lost out there on the waterways. Things start to look the same and it's easy to miss landmarks and waypoints. What you might have seen and studied on Google Maps from the comfort of home can be very different on your waterways.
For someone short on time, our best picks are here:
Getting a GPS is one very essential piece of equipment. You'll find it useful not just for navigation, but also for camping and fishing.
Buying a GPS for Your Jet Ski
I've written a complete buyer's guide showcasing the 12 best jet ski GPS devices available. This comparison list is specific to PWC owners.
I'll showcase the key features and why these are important.
How to Best Choose the Right Model
Before we get into the list, let's look at what makes up the best models on the market. This is especially important because unlike a car GPS or a hiking GPS, the type for the marine world need to withstand a lot more pressure and demands.
With jet skis now reaching speeds well in excess of 70MPH, that bouncing and saltwater can quickly destroy a normal household GPS.
What I look at is:
Pricing
You've already spent a lot of money on your machine and gear. It seems attractive to buy a cheap jet ski GPS but I would recommend spending up a little more.
Sure, you don't need to spend thousands, but don't go into the cheap end of town either. A few hundred dollars is all you need.
Ruggedness
As I just previously mentioned, you're putting your GPS in some very less than ideal conditions. The conditions on a yacht doing 7MPH is different than a jet ski skidding across the water.
Obviously you'll want waterproof-ness, but also it needs to be rugged. You should be able to drop it from 1 metre and it should survive. Most of the best options on the market have been certified for their drop-test ratings and waterproof capacity.
Ease of Use
You don't want to spend months trying to learn all the functions and buttons. Something that's easy to use and shows the main navigational functions is all you need.
I like the GPS models that have big buttons. When you're wearing gloves it makes it so much easier to move between functions. Big screens that can still be seen in direct sunlight are also very helpful too.
GPS Features
Of course, the features available differ between models. For the basics, you'll want to be able to set waypoints and locations. Zoomable maps are also helpful too.
Some manufacturers charge extra for their most recent maps, whilst others will give you free lifetime upgrades. This is good as there are still places in the world being plotted.
Right, so what is the best GPS for a jet ski? Let's have a look:
Quite clearly Garmin dominates this list and they have done so for many years. They build devices based on reliability and accuracy, whilst also being affordable.
Creating this list wasn't easy. Let's go deeper into each model and what's exactly offered here.
This is #1 for several reasons. It's affordable, rugged and has basic functionality. You can buy a special mount for your handlebars too.
Does it have advanced features? No. But you can use this for most jet ski trips without a problem. You can view your location and track your route, and for many riders, that's all they want.
Some people say this one is the best. Yes – it has a color screen, but it's also more expensive too. For many jet ski riders, the Garmin above is enough.
Need something a little more? Go for the eXplorist 510 Marine. It has so many more features.
I really do like what Magellan has offered here. If you're prepared to pay up a lot more, you won't be disappointed at all with the eXplorist 510 Marine.
If you want a chartplotter, then this is your device. I love using these personally but for many riders, this isn't a feature you'll really need.
Everyone loves this device in the marine world! This is one great piece of kit.
It's a great device that gives you even more than what the two models above offer. If you want a GPS for your jet ski as well as your boat, then this is my #1 pick.
For those who love jet ski fishing, you're going to love this piece of equipment! Lowrance has a great jet ski GPS that also doubles as a fish finder.
Going jet ski fishing? Take the Lowrance Hook2 and you won't be disappointed.
It's bigger than just about any other model featured here, but it makes up for the size in the functions. You get a color screen that's easily viewable, though mounting on the handlebars could be tricky.
Looking at the eTrex 10 but want some color and more features? The 22x is my pick. Spending up a little bit more gives you a whole lot more.
This is definitely much better than the eTrex 10, but you'll be paying a higher price for it too.
If you read the online reviews, just about everyone loves the Garmin eTrex 22x. It's often mentioned in jet ski forums and Facebook groups as the best option.
Talk about offering the bells and whistles! The Garmin GPSMAP 64sx is the way to go if you've got some deep pockets.
I call this the 'Rolls Royce' of the Garmin sx range. My buddy has one and I seriously am jealous!
I've used this model a few times and love it. The larger screen and big buttons will be helpful for those who can't deal with small devices.
Here's another great fishfinder for those who love jet ski fishing. The Striker 7SV is one model that is heavily praised around marine communities.
Better suited for those who go boating, but this bit of gear is still found on some PWCs
Is it cheap? Not really. But it's certainly great value for money as both a fish finder and a way to get yourself safely back to the boat ramp.
Most people won't need a VHF when out on their jet ski. In my experience, a VHF can certainly be very helpful to have in the event of an emergency. Now, imagine a VHF paired with a GPS!
Introducing the Horizon HX870E. This is one seriously awesome piece of equipment. If you already have a boat, then this which has 2 devices in 1 is a wise choice.
This is more of a pocket model for hiking and backpacking. If you're looking for cheap, then you'll find it here. This model doesn't have good waterproof ability but is still a good choice to throw in the storage compartment.
The Endura is an older model but sometimes you'll find these cheaply on eBay as pictured.
This is going to give you the basics: Location and waypoints. Don't expect much else, but for the price you pay, it represents an affordable option.
Chances are that if you're into jetskiing, then you're also into adventures and roughness. The PN-60 military from Delorme is one fine unit.
The PN-60 is popular with adventure motorcyclists. The orange color means you can find it easily in the storage compartment.
It has been tested to some very high military standards and is very rugged. Throw this around in the glove box, in your backpack or in the 4×4 and expect it to last a few years.
This is a smartphone with some GPS functionalities. It's both expensive and not really that well known, but if you're into adventuring, then this is a good alternative to the model by Delorme.
Need a big screen? The Memory Map Defender has you covered. Feels like an iPhone.
You'll only find a very small handful of jet ski riders using this device for marine navigation. It's more of a 4×4 and military model but can serve its purpose on the waterways too.
A great alternative if you don't want the Lowrance above is the Garmin Strive Plus 4. It comes with a Fish Finder!
Garmin has yet another fishfinder/GPS combination on this list. One good bit of equipment!
I had heard great things about this model and had a chance to try it out last week at a group ride. It was awesome but also a bit pricey too.
The Best Jet Ski GPS Model
There is no 'best for everyone' model. The best jet ski GPS is one that is right for you. Does it fit in your hand properly and can you read the screen? Are the features exactly what you need for your adventures?
Here's what I also recommend for you:
Check that it floats when it falls off your handlebar mount
Make sure the battery life is enough for an entire day's riding
Ask the manufacturer if you can buy an additional mount for it
Watch some online reviews on YouTube to gauge user experiences
Avoid anything too cheap. The < $70 versions are generally rubbish
I like the bright models – yellow and orange in particular. When these fall into the water, then they are easier to spot. The hiking models generally are much easier to spot in murky river water or even out on the open ocean.
My recommendation is that you protect your GPS just as you would your jet ski. Don't just let it sit there unsecured on the handlebars when you're away. I've written an extensive article already on jet ski theft. You can buy a small security cable on Amazon or eBay to stop your GPS getting stolen.
One model I haven't mentioned is the SPOT device. You might have seen these previously in magazines or on YouTube videos.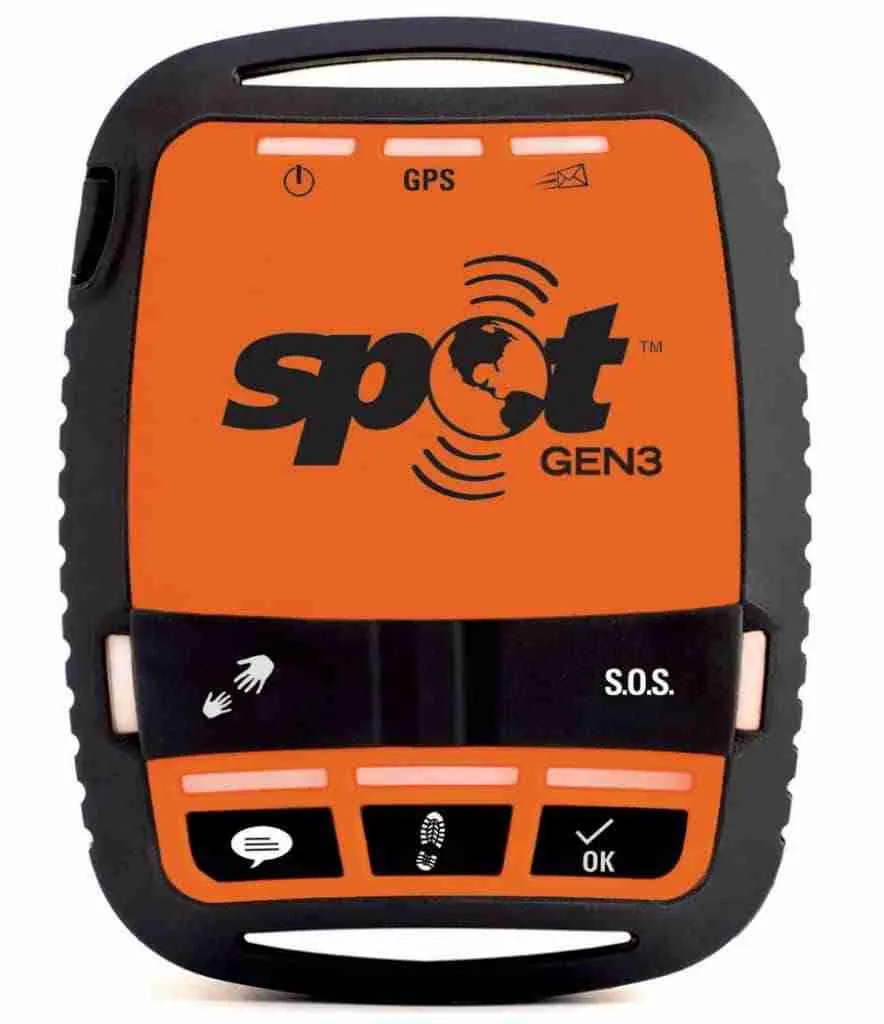 Spot Tracker (Not ocean for open oceans)
This isn't a GPS for you, but one that can help your family members track YOU in the event of an emergency. Just press one button and they will be notified that you're in trouble and need assistance.
In Summary
Garmin is leading the way with many of the best boating and marine GPS devices. Their GPS offerings for the jet ski market are equally as impressive.
If all you need is basic maps and a location, then you can't go wrong with the eTrex10. On the other hand, the eTrex 22 offers much more including a color screen, but it does cost much more too. Is it worth it? Depends on your budget.
Many riders prefer to leave the GPS stored away in the front compartment so they can simply enjoy a day of riding. They'll look at it occasionally, but most riders are well aware of their general location and surroundings.
It's good to not rely on technology entirely but also have a good sense of where you are and where you're going. In other words, don't get lost in the world of electronics, because most people are smart enough to figure out if they're going upstream, downstream, east or west.
But a GPS can certainly be helpful, especially in emergency situations and tricky navigations. Would I still recommend one? Absolutely.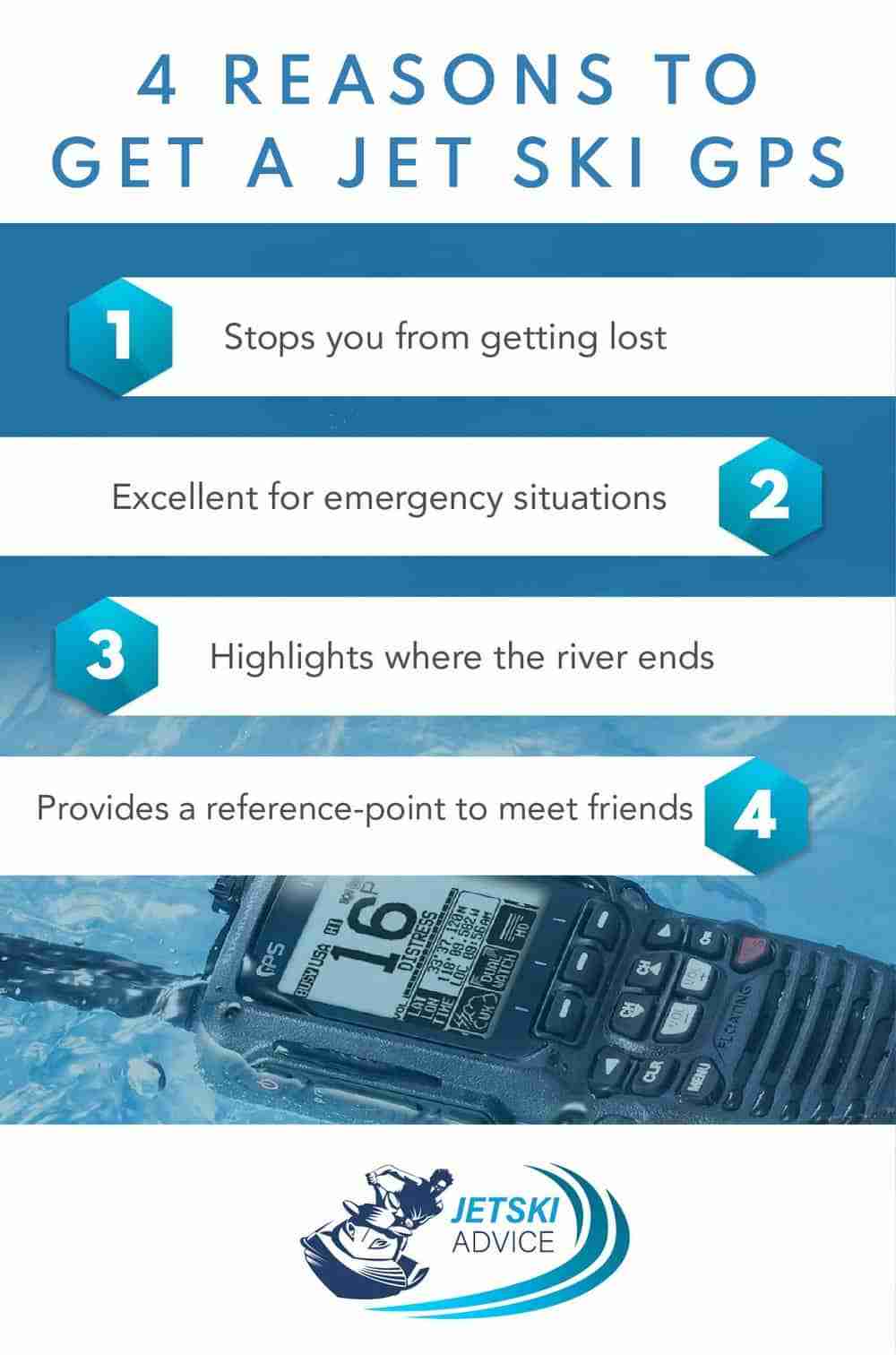 Sure, you don't need to spend thousands, but don't go into the cheap end of town either. A few hund