So you're looking to start your very own rental business. That's the dream of many individuals looking to combine their passion with their daily work.
Now – your biggest expenditure is the purchase of your fleet. You might be looking to buy 4 to 10 jet skis in bulk from one of the main manufacturers. For that reason, I created this very simple guide to steer you in the right direction.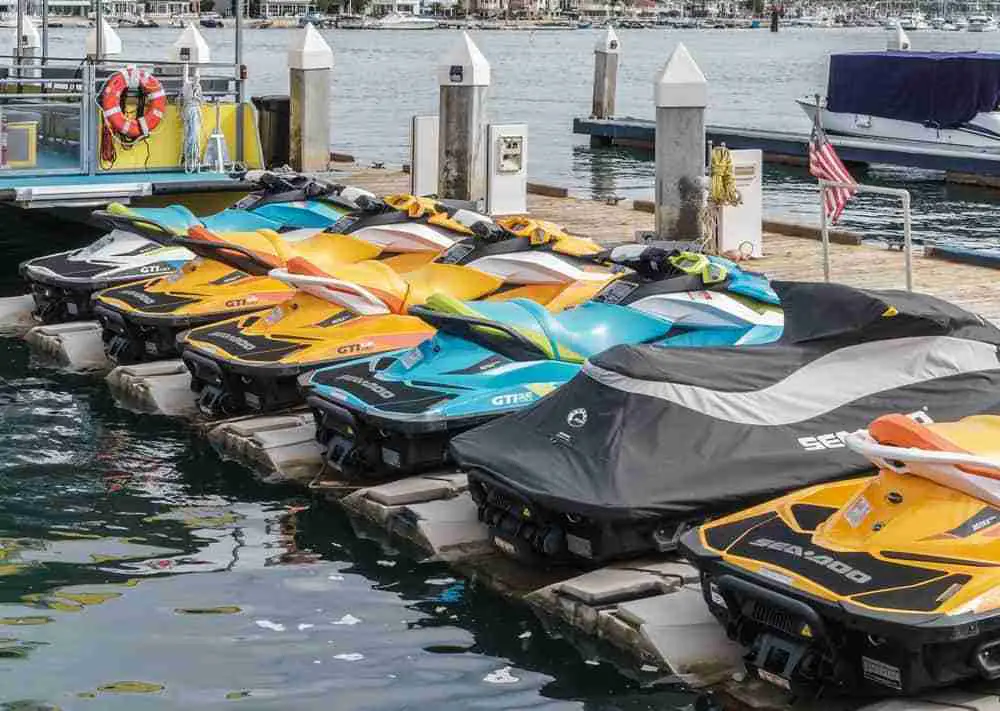 After looking at the purchase choices and preferences of numerous hire companies across the world, I've come to these conclusions. None of these is based on brand preferences or allegiances since I'm not a fanboy of either brand and would easily own both.
Kawasaki, given they are performance-orientated, doesn't have any jet skis suitable for the rental industry and so you're left with only Yamaha and Sea-Doo to work with. It's generally the rec-lite series that works best to reduce upfront expenditure and ongoing maintenance costs.
These are the best choices for a jet ski rental fleet:
1. 2022 Sea-Doo GTI 90
I did the research and found the GTI 90 is ideal for the rental industry as its upfront cost is quite reasonable and the non-supercharged model is great for reducing your fuel overheads. Not only this, but it's quite safe as a jet ski and won't cause concern for the individual since the power is quite tame.
Some companies I researched also went for the GTI 130 but this is really best for those who are running open ocean tours. If you're only running a lake-side rental business, then the GTI 90 makes the perfect model.
2. 2022 Yamaha EX and EX Deluxe
The EX really does mirror the GTI 90 quite well and if you're a Yamaha fan, then this model will suit your business very well. I did see slightly more business owners choosing the GTI 90 but the EX is actually slightly cheaper although its mid-2000's aesthetics don't look quite that good for Instagram
Yamaha has their own in-house finance and could help you set up the entire business with remarkably low-interest rates. The EX Sport and Delux models are also excellent if you don't like the aqua-look of the 2021 EX.
3. 2021 Sea-Doo Spark
Now some people would wonder why I didn't list the Spark as the first on this list, and there are several reasons for this. It's a great model and excellent for a rental business fleet, but it may struggle to attract hirers.
You see, some people really know their jet skis well and the Spark is largely considered to be quite slow and doesn't quite perform that well. Some individuals may choose one of your competitors if they have the EX and GTI 90 as their slightly more powerful. I would opt for the 2021 model for price savings in the used market if you choose this for your rental fleet.
4. 2022 Yamaha VX-C
Sometimes the recreational-lite series just isn't enough for riding in some areas. If you're planning to head out into the ocean and expect the entire party to be hauling at 40-knots, then the Spark and other models will struggle with their lighter hull design.
The VC-C is a recreational jet ski that starts to verge into the performance spectrum. If riders have a passenger then this ski will better cut through the waves leaning to a smoother ride without feeling like being thrashed around.
5. 2022 Sea-Doo GTX
The last on our list is actually one of my favorite jet skis for first-time riders! It also happens to be ideal for the hire industry as an ocean-going contender. The GTI SE is also a great model to consider in this spectrum.
While some would say that the GTX is an overkill for first-time riders and in some sense I would agree, but sometimes you need the right jet ski for the owner or tour leader. Then this is the model I would choose as it's possible to tow a broken down jet ski if it happens (and it does happen, but it's rare). The cost of the GTX (almost 2.5x the cost of a Spark) obviously puts off many who have a hard budget for the entire fleet.
Getting Started
There we have it! 5 top choices for fitting out your rental fleet with personal watercraft. You'll have some budget options as well as those better suited for when conditions aren't so glassy.
I've also created a guide on How to Start A Jet Ski Rental Business which is a worthwhile read. It really does give you the lowdown on what one should expect.
Also, don't forget about the importance of locations, marketing and reliability. It's not just about the actual fleet at the end of the day. You could get a discount on some used models but the dealers often provide a volume discount on the new models as you effectively become a marketing channel for them. In other words, the riders become excited and decide to buy a PWC themselves.
If one dealer says no to a volume-based discount and letting you effectively advertise for them…then go to the next one! It's that easy.
Catch you out there!