Have you seen those guys at the boat ramp or on social media heading out fishing with their jet ski? It's certainly become very popular in recent years.
So much so that SeaDoo actually has its own Fish Pro designed primarily for those seeking to head out there without the expense of a boat.
Even if you have a performance-orientated jet ski such as a Kawasaki, you can still go fishing. In this guide, I'll help you get set up properly paired with some tips so you can go out there safely. Let's begin!
How To Go Fishing With A Jet Ski
Some planning really comes into a day out there on the water. PWC fishing has its perks but it's not simply a case of hooking up the trailer and heading out.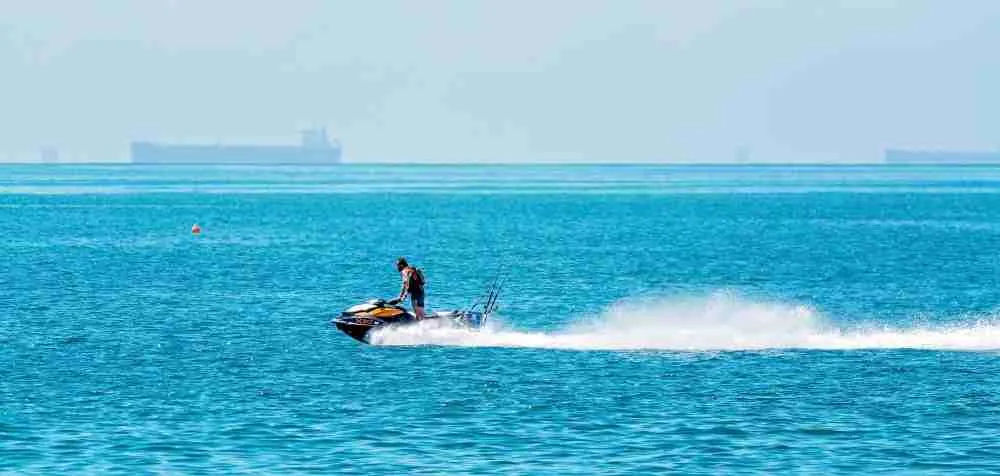 Here are the basic steps for a jet ski fishing adventure:
1. Fit A Rear-Mounted Rod Mount and Cooler
A cooler, or esky as the Australians call it, is necessary to mount your fishing rod(s) while you're out there. Of course, you'll want to mount one of these before you head out.
Some jet ski dealerships nowadays sell them in-house although you can also buy them online. If you have an older jet ski then you may need to get one made up. If you're handy with metalwork then you can make your own mount or get some of your mates to knock one up.
2. Check The Weather Conditions
Going out fishing with your PWC is no different than a conventional boat. You'll want to check the weather conditions and consult the tide tables before heading out. Anything above 15-knots it's going to be fun if you're in seawater.
3. Pack Some Sun Protection
Unlike a boat, you'll be pretty exposed out there on the water. This is why I recommend you get a wide-brimmed hat to be worn once you pull up to an epic fishing spot.
In addition, I'd aim for a long sleeve shirt which you can change into. Wearing a rashie will cause you to sweat too much out there. One thing that works really well for most fishermen is those shorts that have zips so you can turn them into trousers.
4. Bring a GPS and Fish Finder
Not just for the sake of safety but for discovering where the fish are biting, I'd recommend that you get yourself both of these. In fact, you can get a fish finder and GPS combo nowadays and a VHF radio is a good idea as well.
I actually wrote a guide on finding the right jet ski GPS which has been well praised.
5. Top Up The Fuel Tank
Never leave the boat ramp without a full tank of fuel. Chances that you won't need additional fuel tanks or bladders if you're just going out 10 miles for some fishing, but a full tank will add slightly to the stability of your vessel while giving peace of mind if you start heading into a headwind on the way back to the boat ramp.
6. Consider Additional Accessories
If you are aiming to use your jet ski for fishing a majority of the time, then you'll want to get some additional accessories. Luckily, I've created an accessory guide to help you get the very best out of your day out there on the water.
At a glance, some things to buy later are:
Rescue board for big game fish
A bimini cover to hide from the sun
A front-mounted set of rocket launchers
👉 Here Are 12 Accessories You Should Buy to potentially yield a bigger catch.
Other Thoughts
I've done a lot of research on this subject and the best thing I can tell you is that you should look at other riders' setups. This includes in-person and through the numerous YouTube videos around which can help you better understand what will work best for you.
In Summary
There you have it! A basic yet simple guide to making the most out of your fishing adventure. Once you head out for your first session, you'll pretty quickly discover what the fuss is all about!
Catch you out there!