When you're out there riding at anything more than 40-knots, I'd highly recommend sunglasses to keep the glare and salt at bay. Let's not forget the sand flies!
All too often I see total beginners heading off to the boat ramp with no eye protection in place. It frustrates me as I know that they'll be getting back earlier than most while feeling more exhausted.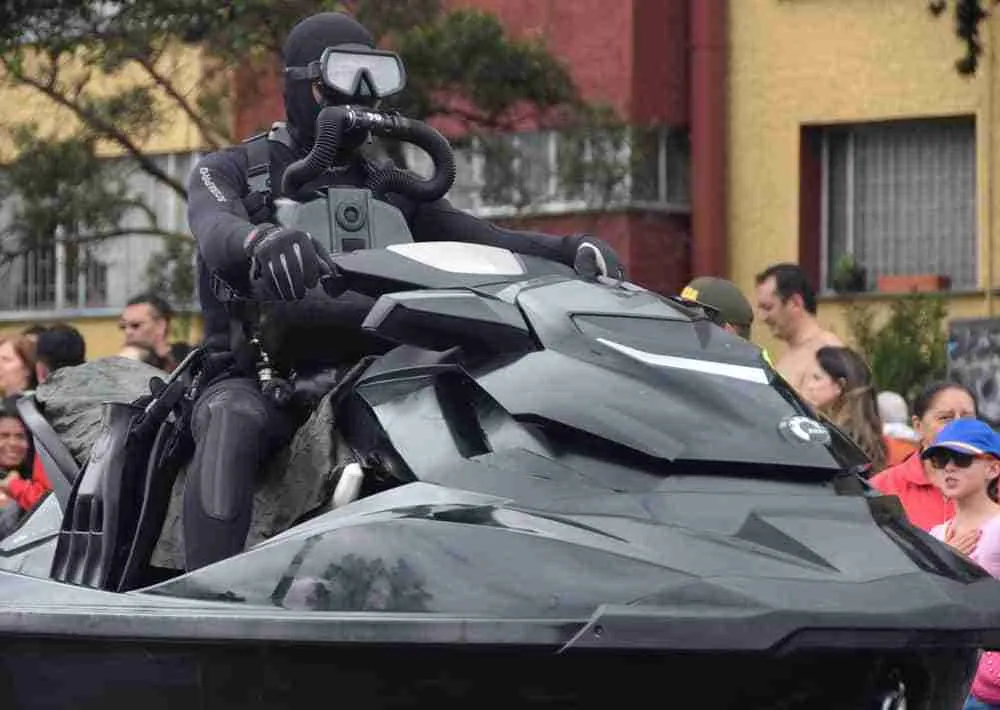 All jokes aside, I wanted to show you what I recommend as premium eye protection for jet ski riders. The type that can stop debris, bugs and the harsh sun from damaging your pupils and ensuring that you arrive safely back to the boat ramp.
Let's start this off now. The most popular eye protection devices for jet ski owners are:
I've met a few guys at the boat ramp who have been sporting the Hurricane Category-5 Goggles who are quite happy with their performance. But what's even better is the price with most people purchase 2 to 3 of the same or different colors just in case. These are padded and you can get a neck strap but from what I hear, they don't fall off that easily.
I spotted someone wearing a set of these sunglasses the other day and was impressed! They are designed for work in heavy-duty environments which means they are ideal for protecting your eyes when riding a jet ski. The best part is that there are so many colors in stock and the strap stops these from falling off. Highly recommended if you're looking for something that allows your face to breathe and look super cool as well!
I really like this set as they have a high-quality strap that comes with the purchase. Better yet – the strap is quite wide so it doesn't slip down when you're riding over heavy seas or cornering hard to avoid that newbie who isn't looking…or that buoy that popped out of nowhere! Being polarized, they'll also help handle the sun in the early morning and late afternoon, as well as the midday glare on glassy waterways.
This is another set of Goggles that has drawn its inspiration towards protecting workers and it's certainly one that can be used in watersports. Some cyclists use these to help them deal with glare while also stopping any slippage. The slippage is the last thing you want at 60-knots. I'm quite surprised by just how affordable these are as well.
Now I would expect some people to laugh at the notion of using a pair of ski goggles for personal watercraft, but it's definitely something I'd recommend especially if you're someone like me who burns easily or doesn't want to have any gaps. If you're wearing a helmet then these goggles also fit quite well. Given these are designed for the snow, they do an excellent job of removing the glare so you can be safer around other watercraft.
I really like my glasses to be padded as it creates a seal between my face and the glass, but I understand that some guys want to either have no padding or at the very least, have less padding. This is why this model rocks as the padding is minimal (mostly around the bridge of the nose) while the viewing area itself is quite large. This means that you'll feel less like you're always catching the view of the frame, as you might feel with the other styles.
When riding in winter, I find that my nose runs like crazy so I grab one of these goggles to sort out that problem. Sure – I look like a futuristic protestor-slayer, but I'm out there enjoying the waterways and feeling just as good on the inside while 95% of other riders are at home in front of the fire.
In Conclusion
So I've shown you now my best-recommended goggles that will make your life significantly easier while riding a jet ski, but it's also wise to consider buying 2 to 3 types. This way you can gauge the differences since some of the models work better in sunny days compared to overcast days, and vice versa.
Add a few of these to your cart and I'll catch you out there!