We may earn a commission if you purchase products via links in this post. More on this
It's getting cold but you're still motivated to ride and while that chill factor has stopped you PWC riding before, a jet ski winter jacket can ease the pain.
We've come a long way in the last 10 years. Manufacturers are really trying to help riders enjoy the sport year-round with their clothing line-up.
I've compiled a list featuring the best jet ski winter jackets available for both men and women. I'll even feature some for the junior riders too!
5 of the best winter jackets for jet skiing
So let's jump straight in with the list.
Currently the best on the market are:
Jetpilot X1 Men's Tour Coat (2019)
Jetpilot Allure Women's Tour Coat (2018)
Ronix Wet/Dry Unisex Neoprene Jacket (2018)
Follow Men's Zip Through Neoprene Jacket (2020)
Jetpilot Venture Unisex Outerwear Jacket (2019)
As you can see, Jetpilot is dominating this list. This company is the pinnacle of jet ski and watersports clothing so it's not surprising that they are listed here. I really like their range as they're always doing constant testing, evaluations and updates to their riding apparel.
But as you'll see from this list, it's not just Jetpilot offering winter jackets for personal watercraft. Let's expand further why I like these 5.
1. Jetpilot X1 Men's Tour Coat (2019)
I really love this jacket because it looks badass. You could get away wearing this at your local gas station and on the way to the boat ramp.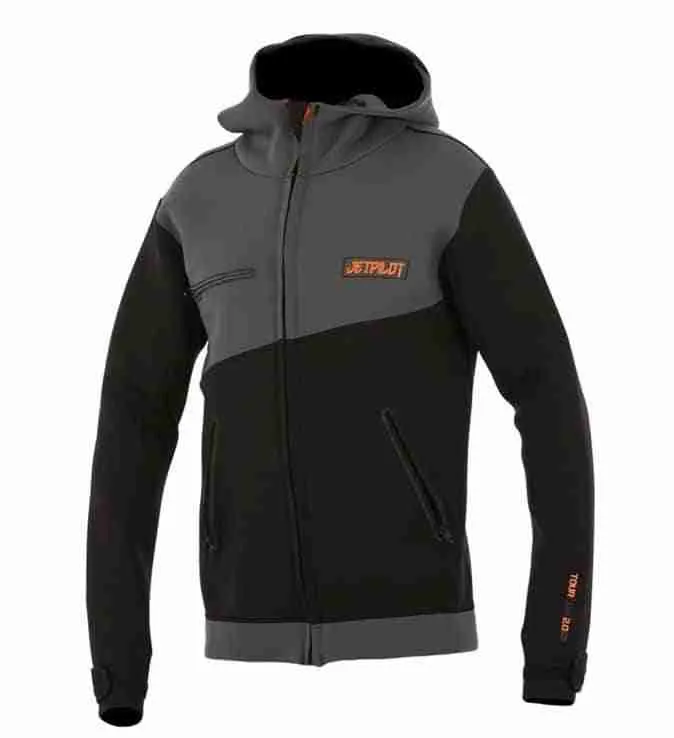 It has multiple pockets and excellent ventilation around the neck. If you wear a helmet when riding your jet ski, then you're 99% covered in the upper body from the elements.
2. Jetpilot Allure Women's Tour Coat (2018)
At JetSkiAdvice.com we're all about the women-riders. You'll never miss out! Seriously – how cool is this jetski jacket?
Jetpilot makes the leggings as well which are quite thick. You can often buy the two pieces together for a discount.
3. Ronix Wet/Dry Unisex Neoprene Jet Ski Jacket (2018)
Another badass jacket! It's great to see that Jetpilot isn't the only company offering a really great looking jacket. Some people also use this model for surfing too.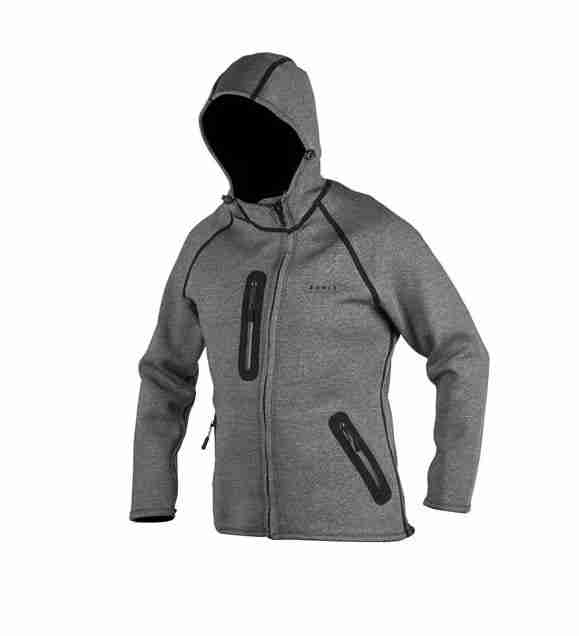 I really love the hoodie on this. It saves having to buy a helmet. The only drawback is that the hoodie tends to slip backwards above 40MPH.
4. Follow Men's Zip Through Neoprene Jacket (2020)
If you're looking for higher visibility, then this is the one I'd choose. It's a basic winter jetskiing jacket but without any pockets. After all, we only store things in the jetski storage compartment anyway, right?
Featuring an adjustable drawstring, the hoodie tends not to slip back as much as the Ronix model above. It's also a bit more affordable as well.
5. Jetpilot Venture Unisex Outerwear Jet Ski Winter Jacket (2019 model)
You wouldn't think this is a jacket that you can use on your jet ski, would you? Jetpilot have delivered the answer to those who want complete protection.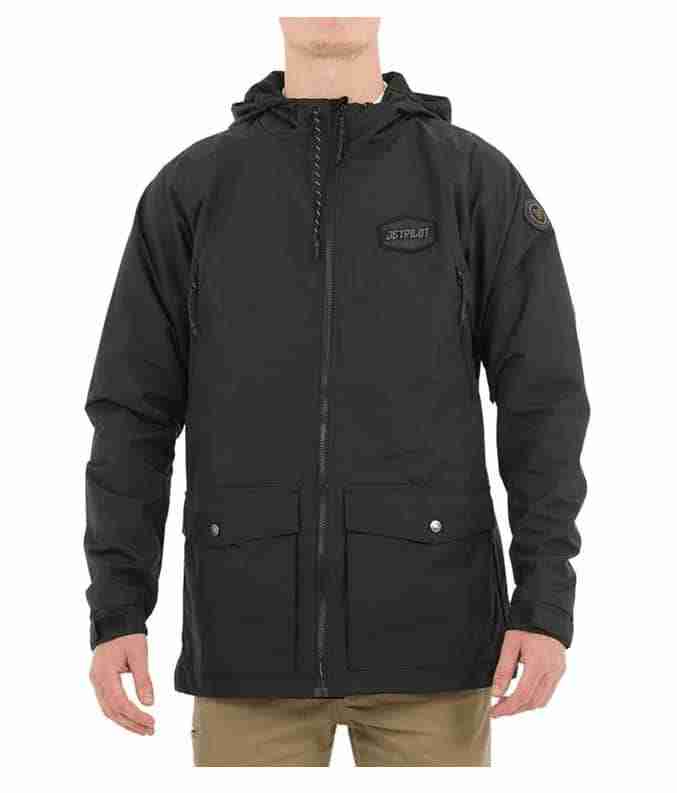 I love the big pockets on the front though I wonder how effective they are. The good news is that you can use this jacket for hiking as well as riding your PWC in the colder months.
Choosing the best jet ski jacket for winter
Before we click 'Order' through our online cart, we want to make sure we've picked the right jacket. This is because not all are created equal.
So I decided to create a buyer's guide to help you choose the right one.
Let's look at some key factors here:
Riding conditions
Putting aside the clothing for a moment, here is a myraid of water conditions that we can ride in. Of course, it can be cool, cold and then the ice-breaking type of cold.
Then we have the swell. Riding in the open ocean swell in winter is vastly different to riding in the same temperature on a windless river system.
You really need to factor in your riding conditions. If you're expecting to get wet every few seconds in the ocean then you'll want to go for something thicker than someone who's hardly getting a splash on them.
Also consider your likelihood of falling off. When you fall into the water and get wet, that's going to be the end of the day for some people in winter. Being wet and riding in super cold conditions just isn't fun.
Just like your riding conditions, if you're the type that falls off your jet ski often, then go for a winter jacket that has greater insulation.
Thickness
I've touched on this point earlier. We want to be considering the thickness of the product we buy.
For some people, their winter is very mild. I live in a climate that is very similar to San Diego in the winter months. It's not really cold apart from the early mornings, so a light jacket is all that I need.
Thickness can range from 1mm to 6mm. The thinner the materials, the more movement you can have, but also, the less likely you are to stay warm.
The thick jackets will restrict your movement on a jet ski. This isn't so bad as you're generally in stationary position riding anyways. On the downside, they can get really hot when the sun comes out.
If you do fall into the water at some stage, then a thicker wetsuit is a better option. This is because it has a greater thermal mass than the lightweight options.
Materials
Neoprene is the main material found in jet ski winter jackets and of course wetsuits too. It's affordable as a material, can maintain good heat and certainly does a good job of cutting out the wind.
We're starting to see some new materials come on the market. Jetpilot is starting to use waterproof materials on the front paired with some poly poplin on the inside. This is a plain weave polyester fabric which is quick to dry.
Another material to look out for is Nylon Taslon. It's certainly the most expensive but is similar to what you'll find with motorcycle adventure jackets.
One overlooked thing is the zippers. If the winter jet ski jacket you're researching has a front zipper, make sure it's waterproof! You can tell by looking at zipper which should resemble and plastic line.
Pricing
I've seen so many times that jet ski riders have spent a fortune on their new machines, only to invest into cheap trailers, wetsuits and safety equipment. It's really frustrating because you can get so much for if you spend up a little more.
A good jet ski winter jacket will cost from $100 to $200 USD. You can even pay more but often you don't need to. You'll get some good brands in this budget such as Jetpilot.
Instead of buying a cheap jacket off eBay, you could also look on Craigslist. Often people will sell their jackets that they have only used a couple of times for much less than the cost of a new (cheap) jacket off eBay. At least you'll know that you're buying a quality brand.
In summary
If you're riding in freezing conditions, then don't let the winter months stop you from the thrill of riding. You'll find the waterways to be much quieter, especially as many boat users stay indoors too. That's the best part – minimal marine traffic!
Get yourself a winter jacket for your jet ski so you can keep riding when others can't. On the other hand, if you only have mild winters, then a long-sleeve wetsuit is all that you really need.
If you choose to go jet ski camping, then taking a jacket will be a wise idea for the cold early mornings. This is especially helpful when it's windy too.
Either way, invest in good quality PWC clothing so you can enjoy year-round riding in your favorite spots.