Have you ever wondered where the most popular areas are to ride jet skis around San Diego? I did too and yet everyone wanted to keep it all a secret.
In this guide, I hope to change all that. I didn't want to be *that* guy that keeps the best spots to himself. I'm going to reveal some of the places where you can open that throttle and enjoy the waterways, both salt and freshwater.
Whether you've just bought a jet ski and are seeking popular riding destinations, or are more experienced and are looking for a new area for this weekend's activities, I hope you gain some value from this guide.
Let's begin.
Common Places to Ride Jet Skis in San Diego
Some say "Sun's out, gun's out" but instead, I like to say "Sun's out…and sprint for the boat ramp before the crowds arrive!" Fortunately, there are dozens of great boat ramps all around San Diego with good parking options.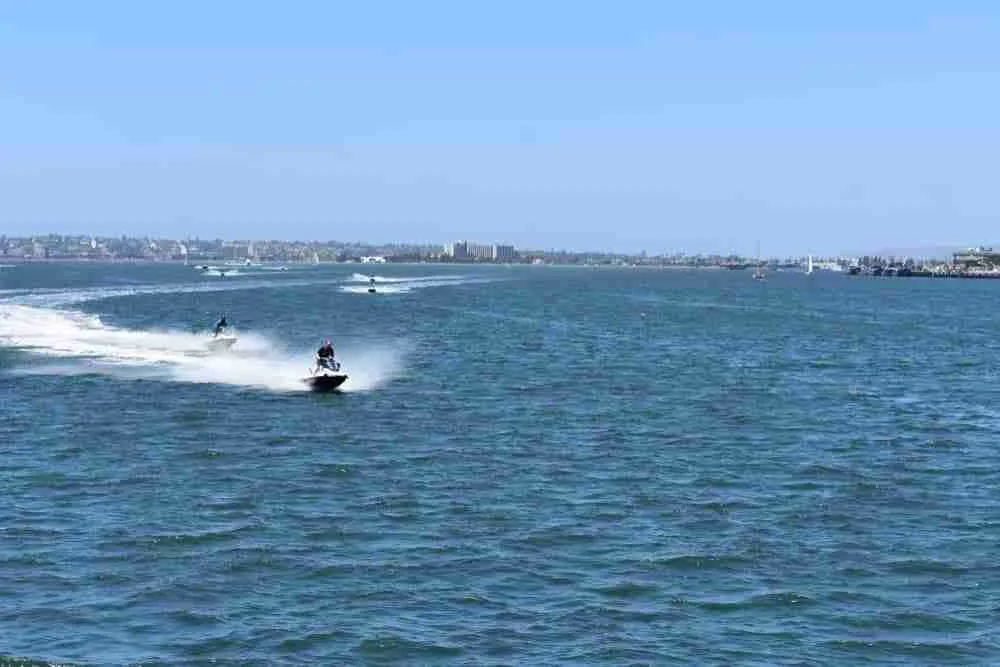 Still, try to get to them by 8am especially on weekends as they can get real busy. And trust me…don't forget your drain plug.
Now I've done my research and scouting on the several times I visited San Diego. Therefore, I'm able to give you the lowdown that no one else is.
Jet Ski owners in San Diego typically ride here:
1. Mission Bay and Fiesta Bay
The most popular place to go jet ski riding is around Mission Bay. Even weekend, thousands of people descend on this area and it's little wonder why so many jet ski rental companies in San Diego are based here. If you're just getting started as an owner then this is a great spot, but you'll want to eventually head out into the open ocean, which brings us to our next spot.
2. La Jolla
For the more intermediate rider, head out towards La Jolla and do a ride right up to Encinitas on a clear and glassy day. Chances are that you won't be the only rider out there! I'd aim to stay closer to shore and watch out for the yachts and other marine vessels that line the coast. Just remember that this forms part of the Swami State Marine Conservation Area.
3. El Capitan Reservoir
Sometimes you're going to want to have some freshwater instead especially when the swell is too extreme out there on the coast. This is why El Capitan Reservoir is one of my most recommended spots to go riding. I'd aim to go there mid-week especially in summer, otherwise, it can get real busy out there! It's a decent drive about 30-miles from the city.
4. San Diego Bay
Another popular place to ride jet skis in San Diego Bay and one area that you really NEED to experience. It's a great way to experience the city with its sights and sounds, though there are speed limitations in place as well as lots of marine traffic and ferries. This is when you'll really need to remember your give-way rules on there on the waterways.
5. Catalina Island
Ok, I know what you're thinking but it's entirely possible to jet ski from San Diego to Catalina Island but you'll need to depart from Carlsbad or Oceanside for the shortest possible distance. Most jet skis won't need to take additional fuel since there you can get gas at one of the several docks on the island. This one really needs some commitment and not recommended for the beginner unless you're in a large group.
Additional Tips
It goes without saying that you'll want to make sure that you don't stray into Mexican waters. This is why I recommend that you take a jet ski gps with you just in case so you know your location at all times. You can visit Isla Coronado but this is going to require a passport and you'll firstly need to formally enter Mexico at Tijuana plus there is a whole host of paperwork that's needed for the jet ski too.