Rottnest Island is one of the most beautiful and indeed the most popular places to visit for those who are in Perth.
This magical island attracts many people, including those with boats and jet skis. Just how long does it take?
Generally speaking, you can get from Fremantle to Rottnest Island on a jet ski in 15 to 20 minutes which is the quickest and shortest route to the island. Leaving from Hillary's Boat Harbour, you can do the trip in around 25 minutes and around 50 minutes from Barrack Street Jetty. Taking extra fuel is often unnecessary.
Of course, those distances have variations based on:
The type of jet ski you have (something like the Sea-Doo Spark is very different to a super-charged GTR 230) and your riding capabilities. I've heard of guys making the trip in less than 10 minutes fully pinned on a clear windless morning.
The amount of swell that's happening on the day and any headwind.
Where you are launching from and where you are eventually meeting landfall. There are dozens of boat ramps which are ideal for a Rottnest trip so it really depends.
But of course, your entire adventure depends on meeting the legal requirements set forth by the Department of Transport:
All boats under 3.75 metres (12 feet) in length (including personal watercraft), must stay within five nautical miles from the mainland, unless they are within the limits of a port or within one mile of any island.

https://www.transport.wa.gov.au/imarine/personal-watercraft.asp
With Rottnest Island being about 10 nautical miles from the mainland, it rules out most jet skis. Even the GTR230 is only about 3.4 metres in length. Some local riders are either totally unaware or simply ignore this rule entirely. And let's say you hypothetically could do this trip, then the following still applies…
Rottnest Island Trip On A Jet Ski
It's certainly an awesome way to get to Rottnest, after all the ferry operators are now charging a fortune due to a lack of international passengers. If you have a jet ski at home in the garage…then you may as well plan the trip!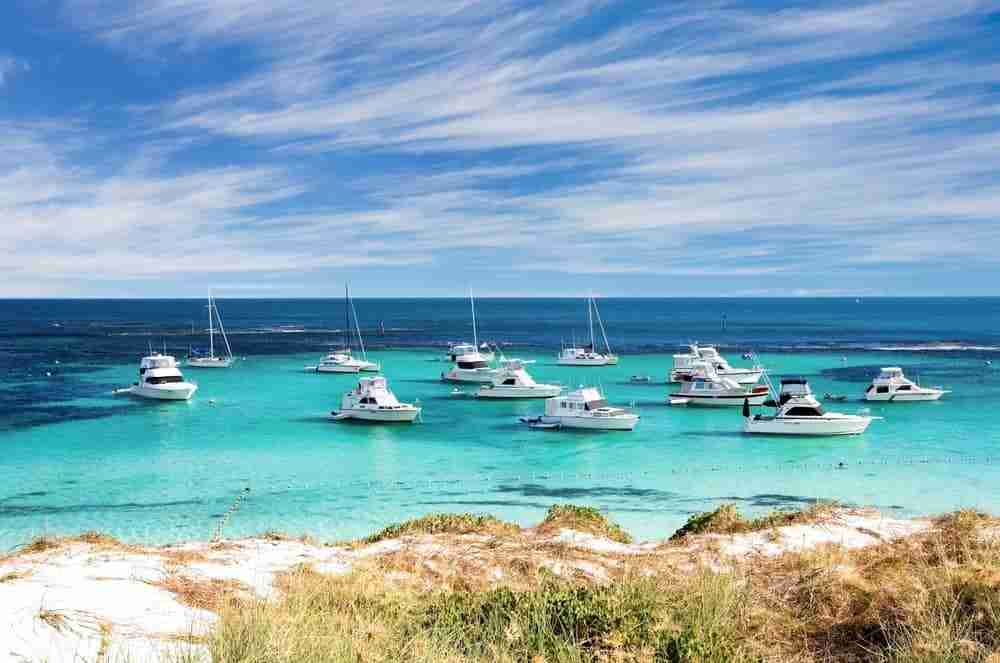 I've noticed that the placement of the island reduces the swell quite considerably, though you still need to be checking the weather forecast before you head out. I'd also recommend taking a GPS with you as a safety precaution. While there are numerous boats heading to and from the island every hour, a loose drain plug could get you stuck real quick.
Where to Park
I personally haven't been to every spot around but Longreach Bay, Parker Point and Thomson Bay are all great options worth considering. The waters here are clear and shallow allowing you plenty of space to beach the jet ski.
You can either anchor or beach your ski, with 99% of riders choosing the later option for obvious reasons. Over in Geordie Bay, you'll actually find beach anchoring points.
A word of caution – There are reefs most of the way around the island so keep an eye out so you don't scratch your hull. As the water is so clear, it's easy to spot a reef from 30 feet or so away.
Things To Do
Now that you've parked your jet ski somewhere safely, there is a myriad of things to do on the island. Hopefully you've brought your snorkelling gear in the front locker as there is so much great swimming to be had!
One of the most popular things to do is hire a bike. This can be tricky if you've worn your wetsuit or board shorts that can restrict you from free movement, so I'd pack a spare change of clothes in the front locker. There is also some great fishing to be had so if you're looking to go jet ski fishing, then you're in the right place!
Getting Fuel for Your Jet Ski
You can get premium unleaded petrol for your jet ski at the Fuel Jetty and it's available 24/7 on a self-service basis. This is why very few people take additional fuel with them for a trip. Of course, the prices are a little steep so just about everyone heads from the mainland with a full tank.
Staying Overnight
You can ride over to the island and park your jet ski overnight. I'd be choosing one of the 3 beach anchoring points at either Longreach, Thomson or Geordie Bay which are free. Keep in mind you'll still need to pay for the individual or annual pass to access the island via marine vessel.
There are numerous accommodation options available and your ski (with a lock on it) will be pretty safe overnight. You aren't allowed to leave your ski for more than 24 hours unattended, so an overnight trip is all you can generally have unless you use the ski during the day. I'd personally just find a new anchorage every night to avoid any attention.
The boaters get away with this as they use their boat during the day for fishing or stay overnight in their own accommodation onboard.
In Summary
One of the best experiences you can have is avoiding the tour boats and heading to the island with your own vessel, and taking a PWC is certainly safer than a tinny. Head over there as soon as you can…before the tourists make their way back!