Heading out to Tangalooma (Moreton Island) with a jetski on a weekend is a lotta fun! Well, provided you get there real early that is….before half of Brisbane rocks up!
The jet ski travel time does vary depending on where you're departing from. For instance, Southport to Tangalooma takes around 75 minutes for most people and may use up slightly more than half a tank of fuel. From Scarborough and Manly it's only 20 minutes and only slightly more from Wellington Point at 25 minutes.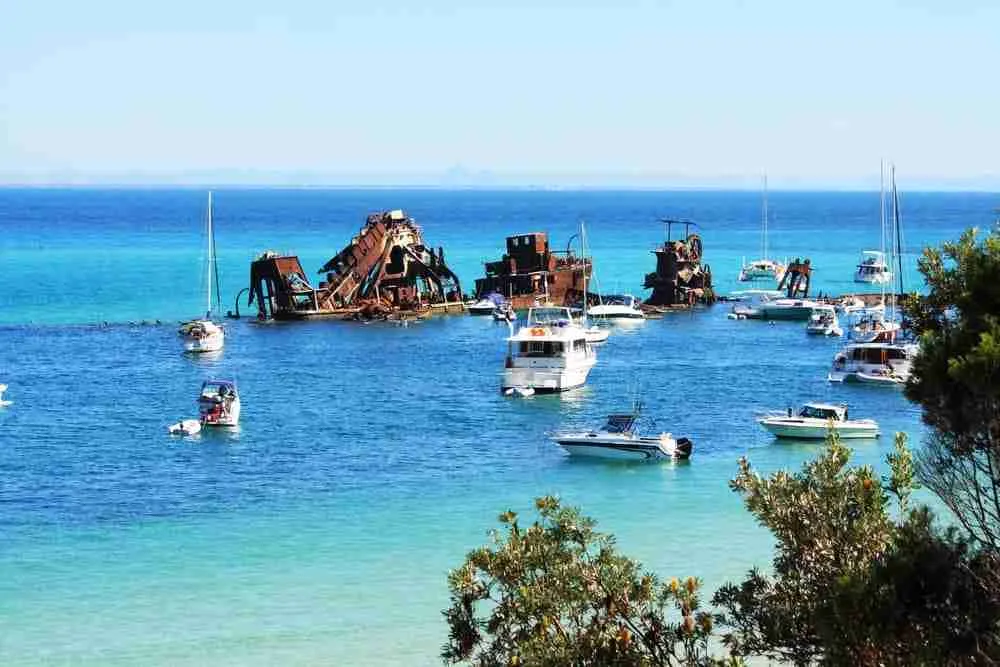 There are also other variances such as your choice of jet ski (a Sea-Doo Spark, for instance, isn't the best choice for a Tangalooma Run), the weather conditions and how much weight you have on the ski.
In this guide, I'll help you better plan your solo or group trip to Moreton Island including the national park.
Planning Your Tangalooma Run
One of the most popular spots for boaties and jet ski riders is Tangalooma and on weekends it turns into an amusement park of sorts, especially in summer. I recommend heading out there on a weekday if possible, or if you need to do weekends, then aim to arrive there by 9am and head some place else by lunchtime.
If you are leaving from the Gold Coast then the main channel certainly gets a lot of traffic. Once you get into Moreton Bay then you'll see your fair share of container ships heading in and out of the Port of Brisbane. Give these big guys a wide berth!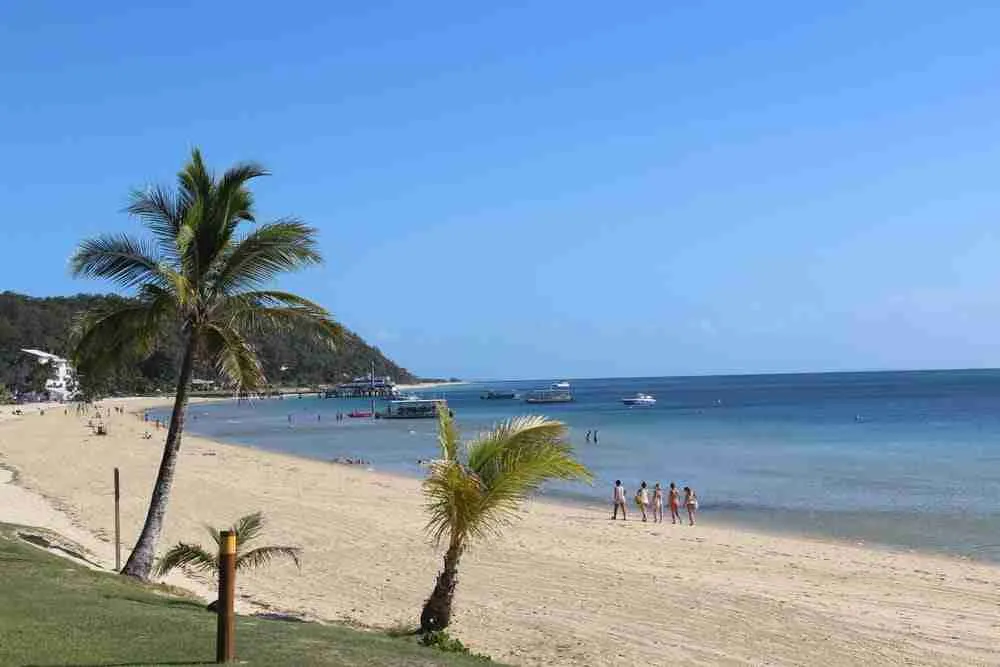 While you're protected from the chop due to North Stradbroke Island and Moreton Island, it still pays the check the weather report. If the forecast is for high winds later in the day because this will chew up more fuel than expected, which brings me on to the next point.
See also: 7 Best Places to Jet Ski on the Gold Coast 😎
Taking Extra Fuel
Some riders strap on some extra fuel on the back for a Tangalooma Run with their jet ski, and some riders don't. Again, it really depends on several factors including your choice of machine, if you're riding solo or 2-up and the current conditions.
Moreton Island doesn't have a petrol station though they do have 20L drums of fuel for sale at Bulwer General Store. It's kinda awkward to go down this route but I know a few people have done this over the years to get themselves unstuck. There are also fuel stations on North Stradbroke Island but this requires bringing your own jerry can.
Staying Overnight
While most people just come for the shipwrecks on a daytrip, you can certainly take your jet ski and stay overnight on Moreton Island. Tangalooma Island Resort welcomes jet ski riders with their own vessel parking area right on the beach with the boats. There are security guards here to keep an eye on things but unsure if they monitor the area overnight.
There is a jet ski landing zone where you can beach your ski. If you need a mooring (unlikely) then you'll need to call them up in advance and there is an additional cost for this.
Safety and Dangers
You might think that a trip to Tangalooma is safe…and it very well can be! Just some things to be mindful of:
There are sandbars on the trip there if you're coming up from Victoria Point, Logan or the Gold Coast. Sometimes you can't see just how shallow the water is and if you get hung up at 40-knots, then I just about guarantee that you're heading to the hospital afterwards.
You can join the Volunteer Marine Rescue out of Southport. It costs less than $100 annually. It works like RACQ and VMR will tow you back to the boat ramp if you get stuck. Well worth it for peace of mind and everyone there are volunteers so your fees go towards the rescue boats themselves.
The weather and wind can change. Keep an eye on what's happening during the day and it can certainly get a bit choppy out there. Yes you can get some phone signal in most spots but don't depend on it – just do regular 360s on the horizon!
Ideally, go together with someone else who has done the trip before. If you (or they) get stuck then it won't feel like a lost day out there.
Be mindful if you're going through the narrow swamps near Jacobs Well and Russell Island on the way there. There could be another jet ski or hellcat coming the other way and blasting through at the same speed you are.
Now – don't let that scare you. Accidents seldomly happen out there though the media likes to blow things out of proportion.
See also: 7 Best Places to Jet Ski on the Gold Coast 😎
Plan your trip well and safe riding! Don't forget the snorkels as there is some epic underwater life to see there among the wrecks.