Choosing the right jet ski anchor to protect your PWC from floating away can be challenging for the beginner, especially as there are many types.
In essence:
Dealerships sometimes give different advice than what you'll find within Facebook groups. Guess what? Everyone is sort of correct!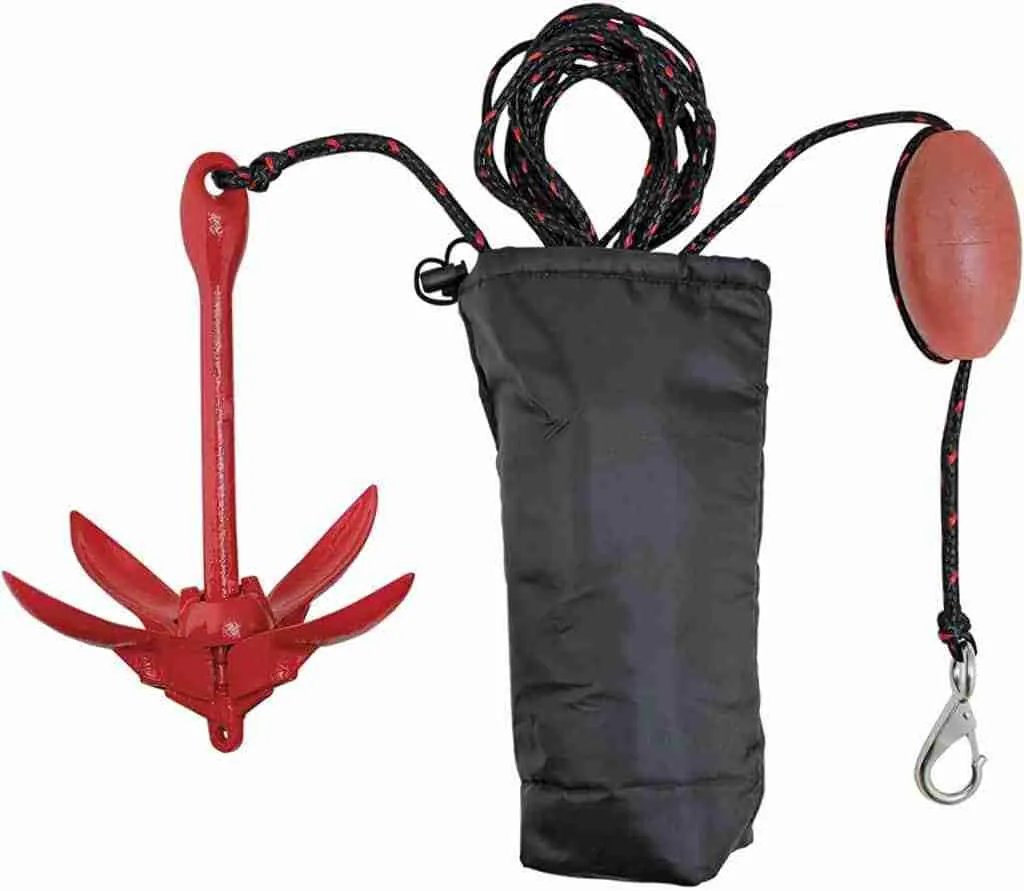 Today I'll detail some of the best jet ski anchors available, so you can lock down your jetski and prevent embarrassing swim-outs.
Best Types of Jet Ski Anchors
So let's firstly see what are the best types. The type that you can rely on.
In my opinion and experience, you're better off with a sandbag anchor for your PWC first and foremost. How it works is that you fill the bag up with sand, then the rope connects to your front hook.
Many beginners prefer to start with these, because:
Very minimal risk of damaging your hull and its paintwork
The bag packs up small once the sand has been emptied out
Can be purchased for reasonably cheap from Amazon.com
Generally will last for years, so it's there when you upgrade
Some people also put rocks in the bag, though I generally don't recommend this. Rocks can wear out the bag liner faster than if you were to just use sand. But to each their own!
The main disadvantage of a sand anchor is that it isn't so reliable in rougher swells and surf beaches, or rapidly moving tides. Also, there is often going to be a tiny bit of residual sand going into your jet ski storage compartment.
My #1 recommendation is the Sea-Doo generic sandbag anchor.
This is the most popular type of anchor for boats. That said, jet ski enthusiasts will also use them in rougher conditions.
This type of anchor is best suited if you wanted to anchor in the middle of the water, as it's better designed for tidal conditions than the popular sand anchors. Those who go jet ski fishing absolutely love the sand anchor.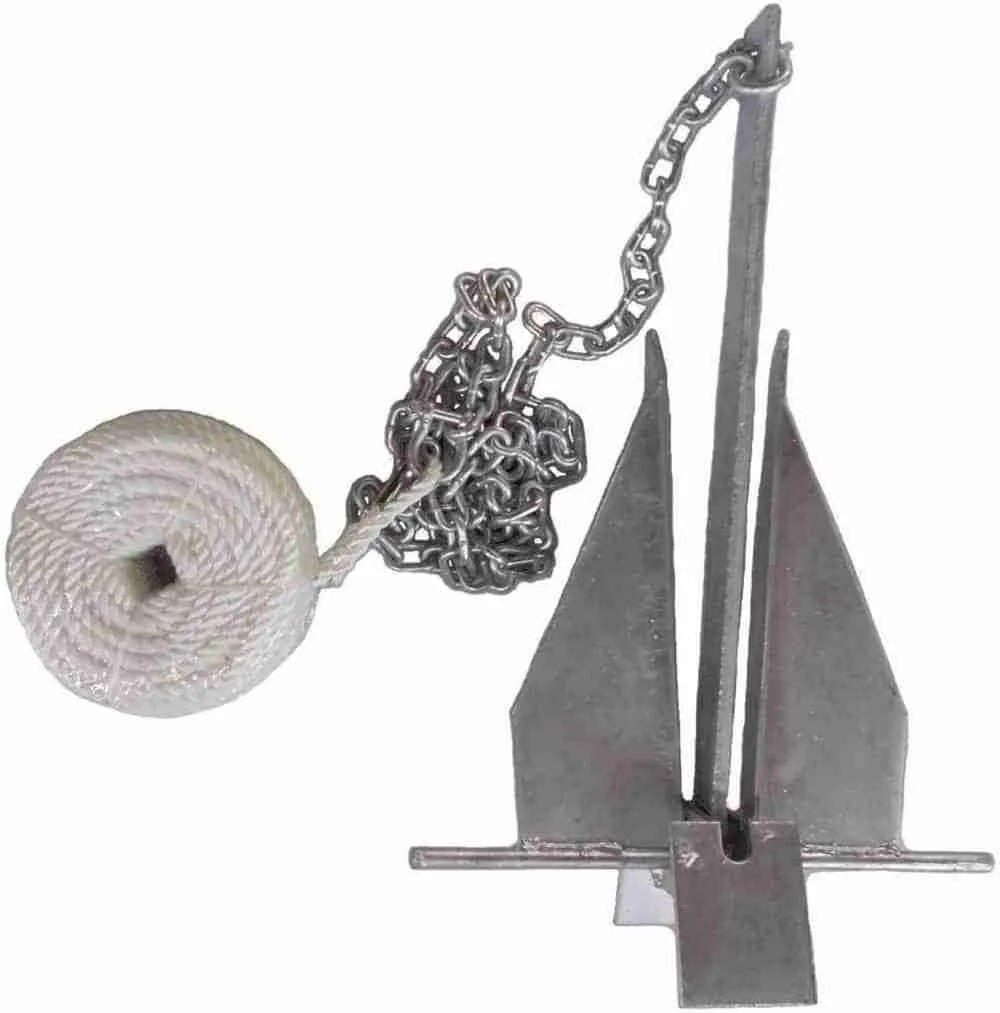 Fluke anchors work well for jet skis that are anchoring in both sand and muddy areas. It is generally too much if you're simply looking to ride the hull up onto the sand and use this as a security device.
There are some key reasons why people don't choose this type of anchor:
It's really quite expensive for a piece of metal
They're big and bulky, with rec-lite jetskis not offering enough storage
In rough conditions, they can bang around in your storage compartment
Potential damage to the hull of your PWC as you throw it over the side
Not only do you have the capital outlay, you also need some anchor chain, shakes and rope. So this can be an expensive exercise and reduce your PWC performance, plus take up a lot of storage space in the front locker.
Sometimes known as a mushroom anchor, this 'upside down umbrella' is really the best of both words. These do weigh quite well just like the sand anchor, but that weight also can't be disposed off. Wrapping them with a towel can work very well.
I recommend a jet ski umbrella anchor that has plastic or vinyl coating, as opposed to metallic. This is because you'll be less likely to scratch your personal water craft hull when retrieving the anchor.
These sometimes can be more pricer than typical fluke anchors, but make up for less potential damage. I would use a 12-pound minimum for even a rec-lite PWC, especially in high tidal-flow areas.
This is my favorite if I'm beaching my jet ski and don't want it to go anywhere whilst I'm out of sight. Sometimes you'll bring your ski up to the shoreline without realizing that there is an incoming tide. Just an hour later and your PWC is starting to float on the water once again!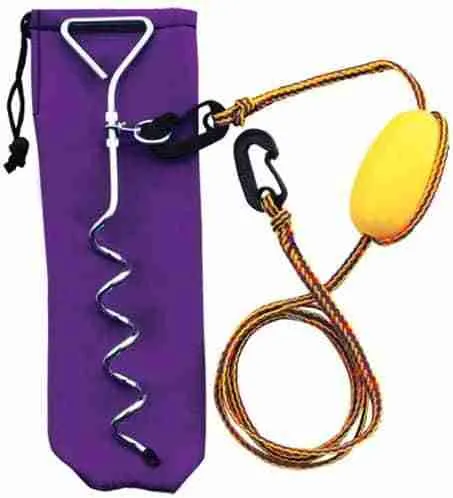 With these, there is a physical side of it. You have to screw the anchor into the sand, then unscrew it when you're ready to leave. For that reason, it simply doesn't work when anchoring normally, but is ideal for beaching your jet ski.
These are very lightweight and highly secure, though less popular for the reasons I mentioned.
Beginner Tips
Some people will avoid purchasing an anchor altogether, in the hope that they will find a tree, pole or something to latch on to if they need to physically stop their personal watercraft from drifting. In my experience, this is a wrong move. You'll simply need a jet ski anchor more often than you think.
Kettlebells and weights are often recommended but will last just a few weeks before rust inhibits them. Then you'll have a rusty weight that lives in your storage compartment. A very bad idea!
Anchors are generally deadweight, but the sand anchor bag can also hold a normal fluke anchor at the same time. As you almost always bring a towel for a day out on the water, it's great to wrap one around any type of PWC anchor that you pack.
Lastly – I would always recommend at least 30 feet of anchor rope. Invest in some quality rope, not the cheap stuff. This is especially handy too if you're needing to tow someone whose jet ski has broken down. That 30 foot of rope allows some 'lag time' in case you need to suddenly stop.
PWC Anchoring: In summary
As you can probably tell, it's tough to give the most precise anchor. There is a good range of jet ski anchors on the marketplace and available worldwide.
You will have to anchor your jet ski at some stage, even as a beginner. You won't always have a nice sandy beach in which to ride up on. Even if you do, a sandbag or screw anchor is extremely handy to have for that peace of mind feeling.
At the end of the day, anchors for PWCs and small boats are extremely affordable. When you outlay so much capital for your new water toy, it's wise to spend the minimal amount on a good bottom anchor to protect it drifting away.