So you're looking at different types of very high-quality jet ski covers to protect your PWC from the harmful effects of sun and water.
Sounds a bit strange, doesn't it? That the two biggest elements that your personal watercraft is exposed to, also happens to be its main enemies.
But of course, all beginners have some questions:
How big of a jet ski cover do I need for my particular model?
Is it going to survive for years and years in harsh conditions?
Should I even buy one for protection, or just 'wing it' for now?
What are the differences between brand name and non-brands.
So those questions, and more, will be answered below in as best accuracy as I can.
Jet ski cover sizing
The first thing you'll want to consider is the actual size of your jet ski. There simply is no such thing as 'one size fits all' with PWC rain covers. Anyone who markets one is generally lying, as either it will be too small (and require stretching) or be good big and flap about on your trailer to and from the boat ramp.
Pro-tip: There is a false belief that you can't use your cover when transporting the jet-ski. Truth is: You can! It won't tear to shreads. The secret is to buy a brand-name cover for your personal watercraft, as opposed to a cheap one which uses low-quality materials.
Also use some extra straps. This can prevent it flying away when traveling at highway speeds.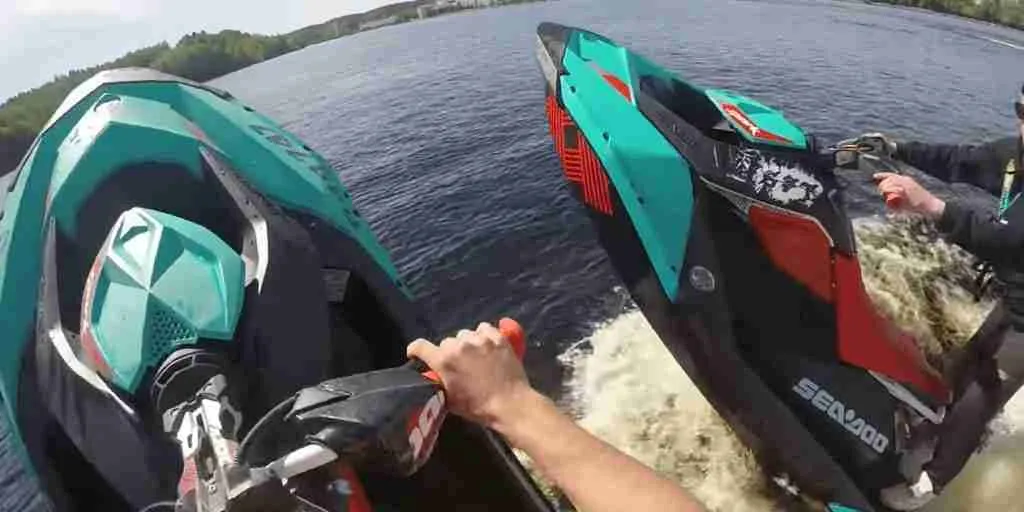 So here is what you'll want to do:
Find out the size of your jet ski in length and width
Look at jet ski covers that are matching or slightly bigger
Avoid the cheapest models. These will only last a few months
You can always tie down a little if you buy one that's a bit too big. Just avoid anything enormous.
Quality and branding
I've touched on this already – you'll want to invest for the best. Avoid the cheap PWC sun cover listings on Amazon that claim they have high quality, when the price is super low. Read those reviews and see what others are experiencing.
You've already spent a fortune on your jet ski, so it's wise to protect your investment. Both sun and water can really damage your surface, and having your seating upholstery replaced isn't cheap. Let's not forget the electricals which can be easily damaged from rain events.
My recommendation is that you buy OEM if possible, particularly by the same manufacturer of your PWC. Whether that's SeaDoo, Yamaha or Kawasaki, you'll likely find something that suits you.
Then again, the argument against OEM is that they are sometimes a bit hard to fit. This is because they're snug – they're designed to fit your jet ski. So you won't get the lag that universal covers provide.
Best Jet Ski Covers
Now we're on to the fun part! Actual personal watercraft rain/sun covers that will protect your machine.
This list of jet ski covers are all from non-manufactuers. This is because you can easily find the ideal cover from the manufacturer who built your jet ski.
But you're also looking at pricing. They can be 3x to 4x the price. So for a lot less, you can still get a reasonably good quality PWC cover for protection on the trailer.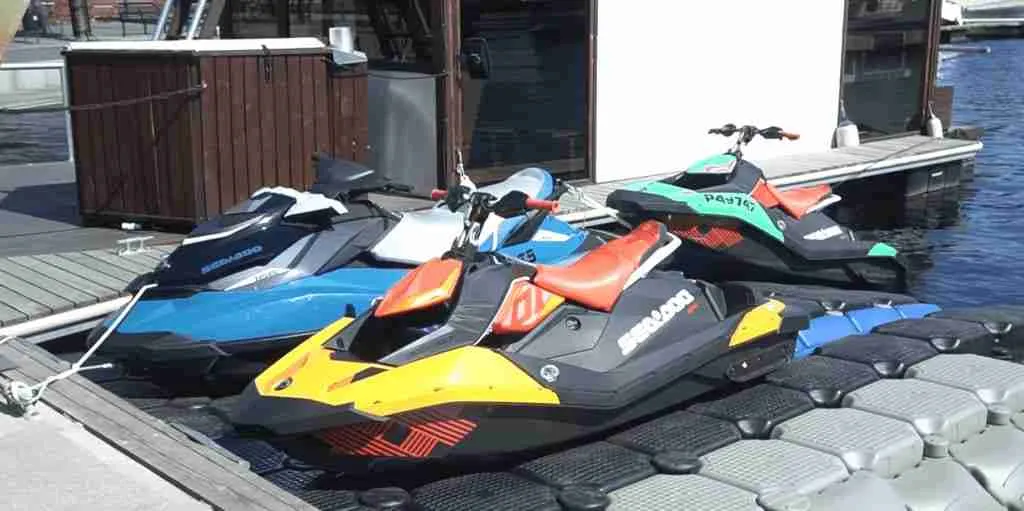 I can recommend:
Budge Jet Ski Cover
North East Harbor Trailerable PWC Cover
Jetpro Jetski Watercraft Cover
EliteSheild 3 Seater Jetski Cover (My #1 choice)
Of course, in front of that list is still your own manufacturer. They have covers that perfectly fit your make and model, with a much higher quality, though also, at a much higher price too.
My helpful advice
As someone who understands jet skis very well, especially as he runs JetSkiAdvice.com, I've learned a thing or two.
In particular, that jet ski covers vary a lot in their quality and fit. For that reason, you'll want to make sure that you get the right fit. Having a cover which can slip off is embarrassing and frustrating, but also, so is a super-tight fit.
Going 'bare back' and not purchasing a jet ski suncover is a bad idea, unless you do have undercover storage to protect your machine from the sun and rain. Even if you do have storage, how will you ensure your jet ski is protected between the boat ramp and home?
I would also advise that you care for your cover too. Regular cleaning is essential as well as checking for holes and leaks. Check the straps too, as these are often the first things that break.
Some food for thought. 🙂
In summary
These 4 options are great for beginners. They're much more affordable than the jet ski covers from Yamaha, SeaDoo and Kawasaki. With that reduced price does come reduced quality, but more often than not, these models do hold up for the medium-term.
I would 100% recommend a jet ski cover for most people. It's a cheap insurance policy knowing that your pride and joy is protected and ready to hit the water!