You need to take preventative measures to stop thieves who will stop at nothing to steal your pride and joy, so get yourself a jet ski lock for security.
Whilst the personal watercraft we have available today have protection features included, you shouldn't rely purely on it. This is because a jet ski on a trailer is still within easy reach, whilst those storing on docks are even more at-risk.
Today I want to show you 9 ways that we can stop theft of jet skis through using security locks and other preventative measures.
Best Jet Ski Locks
Let's start with the locks, as that is typically both affordable and an easy solution. Through using a lock, it's predominantly going to slow down the thief or simply make it harder for them. Rarely does it make it impossible!
The current best jet ski locks available in the market are:
These all vary in their effectiveness. Some you can lock your jet ski to your trailer using the hull ring. These are also ideal if you're at the dock or on a sandy beach.
There are others which are steel straps where you can run a few over the seats of the machine. You can then tie down the jet ski to the trailer, otherwise, a group of thieves could lift your machine on to their waiting trailer and make a quick getaway.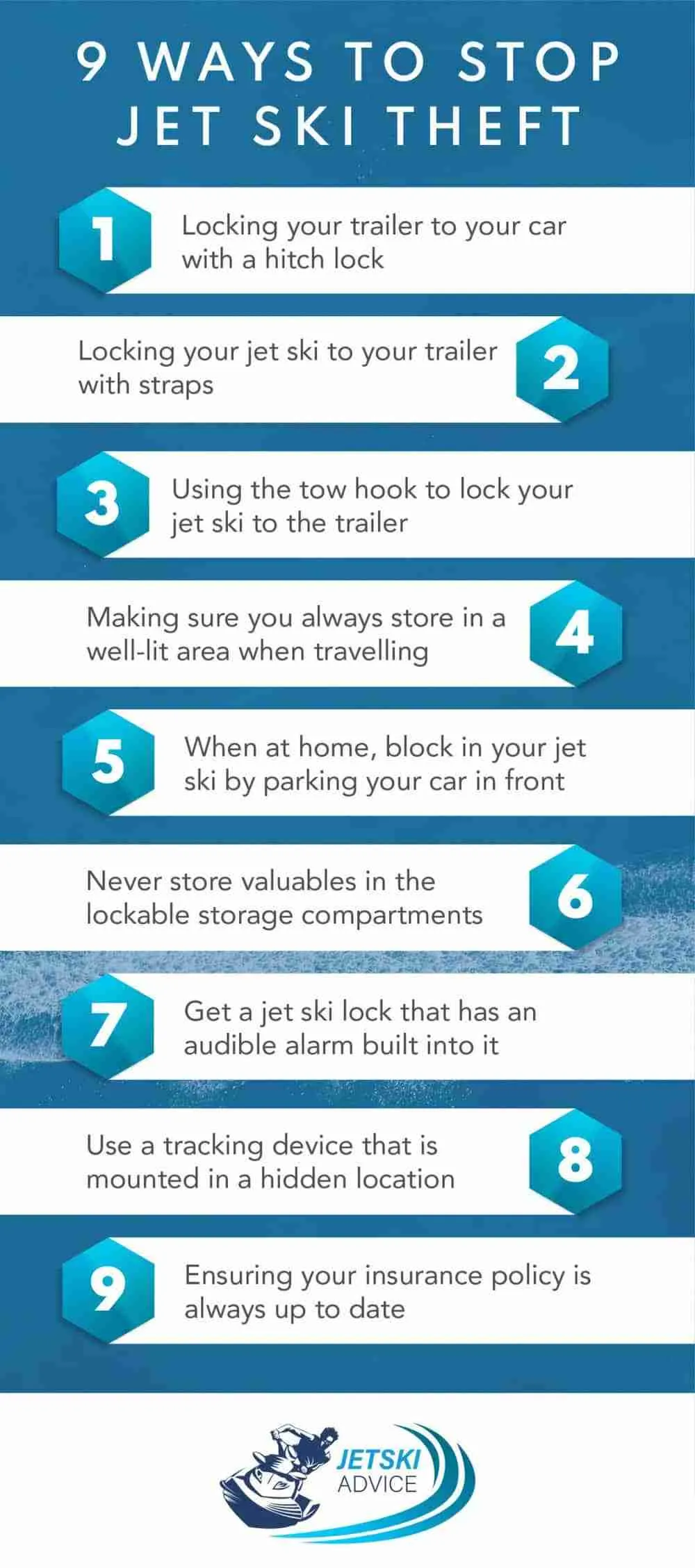 Generally, the easiest way to stop the theft of a jet ski on a trailer is with a wheel clamp. Some people advocate the use of hitch locks but this does not prevent a roll down tow truck from taking your PWC away in 5 minutes.
Padlocks for trailers and docks
Let's look at some of the top options here.
I would certainly advise starting with a long and adjustable security padlock. The cable can attach to your tow hook and the dock, trailer or even a tree at the boat ramp.
We also have a lockable steel-core strap that won't damage the body paint of your hull but does offer some good protection. It will stop both people taking off your cover to have a look at the make/model, but also stop them taking the entire ski off.
I and many other jet ski enthusiasts would advocate that you use a coupler lock on your trailer. This prevents unauthorized tampering with your trailer. Unfortunately, these are often not rust-proof.
Finally, we have the wheel lock. You should already have one of these at the boat ramp anyway. Just don't forget that it's there and attempt to drive off.
With those 4 accessories, you should significantly slow down any opportunity where someone might be tempted to steal your jet ski.
Additional security measures
It's not just a great jet ski security lock that will help you prevent the theft of your personal watercraft. There literally is so much more you can do.
1. Always leave your jet ski in a safe location
It goes without saying really, that you need to make sure your jet ski isn't in a dangerous spot. Whilst many remember to secure their trailer at home, they let their guard down once they head out.
You should strive to maintain strong security when you're travelling. Staying at a hotel? Make sure the trailer is in a very well lit area and locked to your vehicle.
2. Remove your valuables
No matter where you are, ensure all your valuables are removed from both the ski when not riding and your vehicle. Those lockable storage compartments on many PWCs are easy to pry open.
I hear of some riders storing their keys with their jet ski. This is a terrible mistake! The hardest part for a thief is going to a dealership and asking for a new key.
3. Use a cover
One excellent tip is to use a jet ski cover. I prefer to use a basic universal cover because it makes it appear that you're using a cheap ski that might not be worth much. Most thieves are in a hurry and generally won't take off the cover to see what's on the inside.
Compare this to using a brand name SeaDoo or Yamaha cover that you typically find in promotional photoshoots. These covers look great, but they literally scream "Steal me!" with their branding.
A word on PWC insurance
It's very important to get insurance for your jet ski, but you must ensure that it covers theft and full vehicle replacement (including the trailer). Trust me – this will help you sleep better at night.
In fact, in some states and countries, having insurance on your PWC is mandatory. It's a smart idea regardless, as you just never know what will happen.
There are a few things I would advise here:
Take photos of you using locks and security practices. This way it proves to your insurance company that you're being proactive.
When buying your jet ski, take photos of the bill of sale. Even if you've purchased from the dealership, we often lose crucial paperwork.
Take additional photos of the VIN numbers for both the jet ski and trailer. The pencil rub method is highly recommended since all VIN numbers are engraved.
All of these I would store in a safe and secure place. I use an online app called Evernote to store my photos and files, but some people like to simply email files to themselves. Either way, don't just leave that information on your mobile phone, as that can be stolen too!
Using a tracking device
Many fellow riders are choosing to get a tracker for their PWC and trailer. Heck, even their own cars and motorcycles! These devices are easy to use and very affordable.
There are some cool features to be found here:
Connects to an iOS or Android app so you can see real-time locations
You can set custom alerts i.e. when your jet ski moves at night time
Often. you'll get a proper 120db alarm system fitted in the same unit
Most come with 'This vehicle is tracked' stickers that scare off thieves
But of course, this is an expensive outlay but can be well worth it. Some thieves are learning how to find and disable these devices quite quickly, so you have to be very creative when fitting them. Look for a spot that they are likely not to find a security tracking device, such as the grips.
My favorite jet ski tracker is the SPOT Trace available here.
I would avoid the cheaper systems as these generally aren't reliable.
Jet Ski Locks: In summary
Let's recap what we have covered here. The 9 ways are:
Locking your trailer to your car with a hitch lock
Locking your jet ski to your trailer with straps
Using the tow hook to lock your jet ski to the trailer
Making sure you always store in a well-lit area when travelling
When at home, block in your jet ski by parking your car in front
Never store valuables in the lockable storage compartments
Get a jet ski lock that has an audible alarm built into it
Use a tracking device that is mounted in a hidden location
Ensuring your insurance policy is always up to date
Many people remain proactive when securing their jet ski, because they have heard of the horror stories. It's mostly the beginners who are looking at how to stop burglars from taking away their pride and joy.
I would certainly recommend a jet ski lock as mentioned here. In addition, insurance and a tracking device can alleviate much of the pain you will experience if a theft does happen to you.