Something that most other personal watercraft enthusiasts don't talk about is what are good ropes for towing tubes and skiers. This guide fills that gap.
There isn't too much of a variety of ropes out there in the market. Some people even just buy a normal rope for camping or towing a car.
In this guide, I'll showcase the best marine jet ski tow ropes so you can tow another jet ski, tube or skier. This features the BEST 4 available.
Now let's go a little deeper.
What to look for with Jet Ski Ropes
Not all ropes are created equal. I would always recommend marine rope because they are more resistant to UV damage.
Some things to consider are:
The diameter of the rope. Is it wide enough for the weight being towed along?
How long the rope is. The longer is better, so you can cut it down to size.
If it's actually designed for marine use. Most ropes are really designed for household use only.
What materials it is made from. Some materials such as cotton become brittle in the hot sun.
The certified tow rating of the rope. I would recommend 3000lbs / 1,350kgs minimum so you can depend on it at fast speeds.
Look at the stretch rating. Ropes that have high stretchability are great for 4×4 recovery and towing another marine craft, but aren't so good for rider control when towing skiers or even tubes. It feels a bit unsettling to be towed behind any watercraft where the rope is stretching.
The color of the jet ski rope. If you're using your jet ski in dirty rivers and lakes, then you'll want to visibily see the rope floating on the surface. Find a color which is fluorescent such as orange or yellow.
Pricing should be your last consideration. The cost of a high quality jet ski rope is very low, often for less than $20. For this reason, just about everyone can afford to spend up for the best.
One thing to think about is the use of the rope. Some people want to tow another jet ski, while others just want to tow the kids behind on a tube.
I would most importantly look at the manufacturer. You want something proven and reliable, by a company that actually knows how to make high-quality marine ropes.
Best ropes for towing other jet skis
If your aim is to tow another jet ski (or even a group of jet skis) then I would recommend the highest capacity rope around.
Most people tow a jet ski with another jet ski if one suffers a mechanical breakdown. Rental shops also tow their jet skis in a group formation to and from the boat ramps, even if they are operating just fine. Often their hire shops are located some distance from the closest launching spot.
Best ropes for towing tubes and skiers
Ropes to tow passengers on tubes and wakeboards behind jet skis can be a little lighter if you choose. This is because the breaking point is significantly lower, given that a person weighs at the most 300 pounds, while a jet ski can weight up to 1,400 pounds.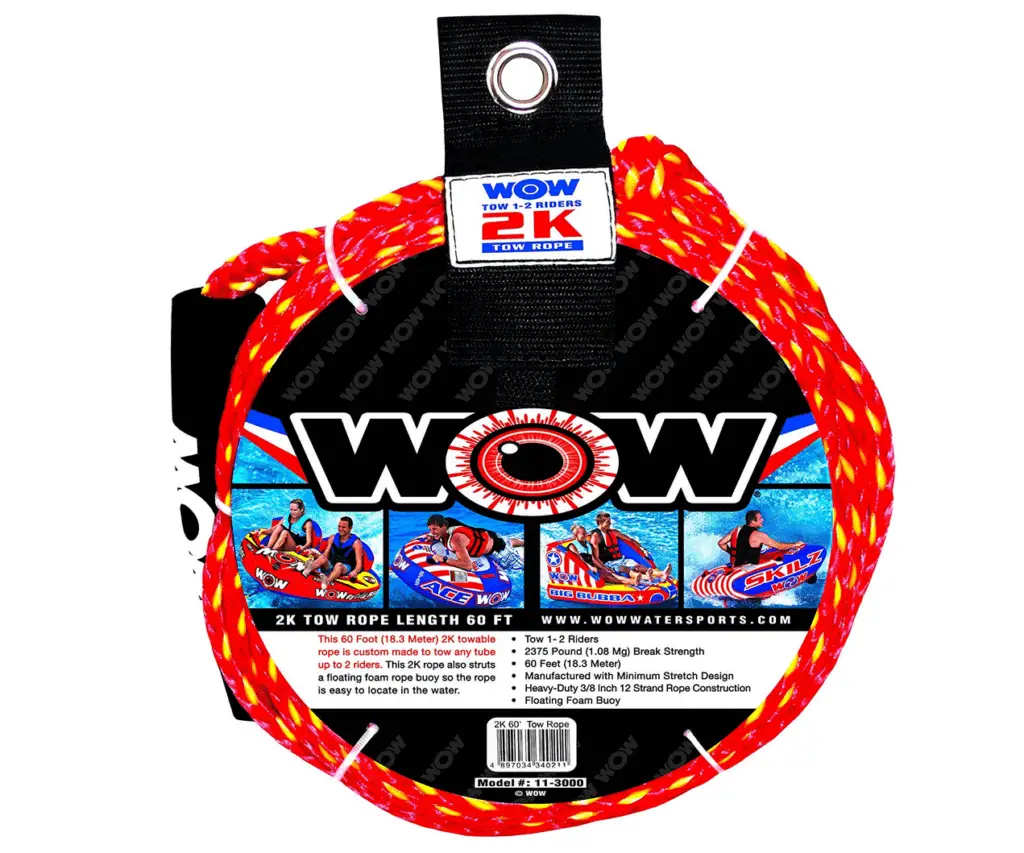 The good news is that there is a good range of ropes from the waterskiing world that work well for jet ski enthusiasts. My #1 choice the brand Airhead.
Best ropes for strapping your PWC to the trailer
Some people search around for a good quality rope with no stretch in order to help secure their jet ski to the trailer. I actually wouldn't recommend this.
The best way to strap and secure a jet ski to a trailer is with ratchet straps. This way you can control the tension and also spread the load without damaging the paintwork. I like to use 2 ratchets to in case one of them breaks while I'm towing my jet ski on the highway.
Best jet ski anchor ropes
I've written an extensive guide on the best jet ski anchors. When you buy one of these it actually comes with a rope already, but what if it breaks?
You might now need to source another anchor rope for your jet ski. My recommendation is just using the same rope that you use for towing a tube or a wakeboard. There is no need to buy an additional rope for this purpose.
Additional tow accessories
In addition to the rope, I would recommend a PWC shock tube. These are very affordable and you'll find them for under $20 easily on Amazon.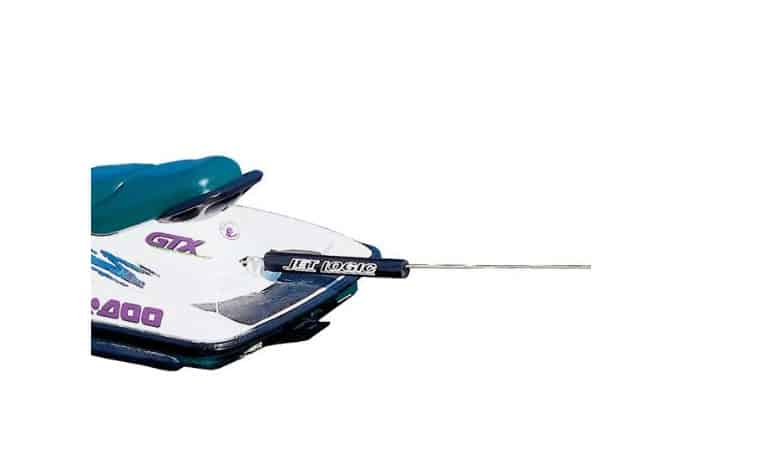 What do these do exactly? They stop the rope from getting caught up in your impeller. If the rope gets caught up there, it can be a very expensive repair bill and embarrassing tow back to the boat ramp. But hey…at least you'll have some rope ready to use. 🙂
Summary
It's not hard to find a good rope to use when jet skiing on the waterways. They're very affordable and anything from the waterskiing arena works best.
Given the low price, I'd always recommend that you spend up for the best in class. Go for known brands that other jet ski users have in their storage compartment already and you'll be set.
These include:
Airhead
SGT Knots
Seachoice
All of these will serve you just fine. See you out there on the waterways!