You're in need of some parts for your personal watercraft. As an established eBay seller, let me teach you how to stay safe on the platform.
Buying parts for your jet ski off eBay can be very risky! You really need to do your research to make sure you're looking at the real deal.
In this guide, I'll help you through that process so you can buy with confidence.
Jet Ski Parts You Can Buy Off eBay
Before we begin, let's have a look at what we can buy.
eBay has available all sorts of parts for jet skis, as well as accessories to have more fun out there on the water.
You can buy the following:
Replacement handlebar grips
New crankshafts for both Yamaha and SeaDoo
Jet ski air filters
Suction fishing rod holders (these are average quality)
Floating safety lanyards
Stickers and decals (won't really improve the performance though)
Engine gaskets
Hatch cover brackets
Pistons and spark plugs
Full engine blocks
Cylinder heads
Crankcases
Throttle levers
New boarding steps
Engine impellers
Let's have a closer look now…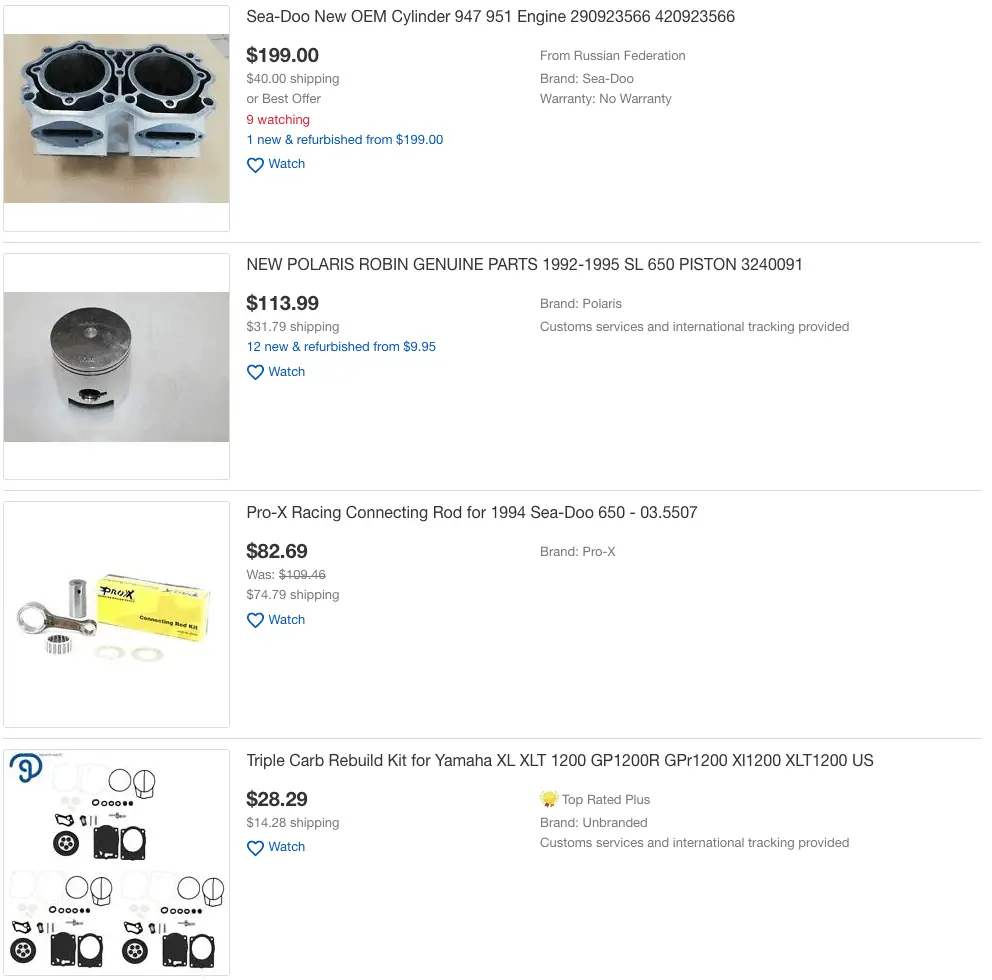 It's fair to say that you can find most things on eBay for your jet ski. The main issue is that it's a real hunting game. Often you won't find exactly what you're looking for, which really sucks.
How to Stay Safe When Ordering
When it comes to eBay, you're really protected by their Money Back Guarantee. That said, you want to stretch even further.
Here is what I would be looking at:
How long the seller has been selling on the platform for
The volume of feedback that they have received (star rating)
Amount of jet ski products that they currently have for sale
How your ordered product will be shipped (padded box etc)
When you should expect delivery of the actual product
A detailed overview where they show the compatibility of such parts
Take for instance this graph that I found.
Clearly this seller knows jet ski parts very well. The only thing is the lack of details regarding shipping, especially as he is located in Russia.
While it's true that eBay has your back, their customer service team isn't known for its high level of service. You can expect to do some running around to get a refund if the product didn't live up to expectations and wasn't described properly. This is why it's important that you audit sellers first before ordering.
How To Know It's Risky
How do we know when we should perhaps avoid a seller? That's easy.
If they have less than 30 feedback, I generally avoid them.
It's relatively easy to maintain 100% feedback, so any less should be avoided.
Look at the shipping times. You need the parts to get your jet ski working, so you don't want to be waiting 2 months for it to arrive.
Have a good look at the photos. Are they all of the same background?
Check where the seller is actually located and if they sell other PWC parts.
The 'Positive Feedback' rating on eBay isn't a representative of exactly how good someone else. It's certainly a good metric to pay attention to though.
In the above example, I would choose redline-motosports who while not 100% in their feedback rating, actually has processed hundreds of thousands of transactions.
Alternatives Towards eBay For Jet Ski Parts
So what else can do we if we're looking for jet ski parts but we want to avoid eBay? Well, there are a few options out there.
Head down to your local jet ski dealership. While they sometimes might not have the parts you want on hand, they can order them in and fit them in their workshop. This is generally the safest method, but it's also expensive too, hence why so many people turn to eBay.
Use Amazon to find parts. While not as popular for PWC parts as eBay is, you'll find some parts on Amazon that you might not necessarily find on eBay.
Head over to Craigslist. Jet skis have a short shelf life. After a few hundred hours it's time for them to retire. Most often than not, the parts are mostly still good, so people sell parts locally through Craigslist.
Jump inside PWC Facebook groups. There are networking groups all over the world where people can help advise you on where you can locally source a part that you might be hunting for. Often mechanics are in these groups offering their services and might even have the parts you want on hand.
As you can see, it's not just eBay where you can get the parts you want. You really should think outside the box, especially with Craigslist where it's cheaper since you don't have to pay for shipping.
Summary
It is worth it to order jet ski parts on eBay, provided you do your research first. You'll also need the mechanical aptitude to fit those parts onto your jet ski.
For some people, it does get a bit too hard. The expensive option is using your local dealership, but this often solves the problem fast, so you can get back out there riding again.
eBay is a good platform. I continue to sell on there and ride my jet ski in my spare time. They have improved considerably over the years, but just make sure you get what you ordered.