Ah so you've just bought your new jet ski and you're keen to get some fun things that you can do. Or perhaps you're still in the research stage.
Either way, I'm here to help you out with this guide. I'll show you how to make the most out your time out there!
Here are 9 ways to have fun on a jet ski:
1. Jump Waves
Yep, who'd have thought? But seriously…it's heaps of fun! Keep in mind though that there are 2 ways to jump waves with a jet ski:
Head to an uncrowded beach and go 'down the back' to get the deep water waves at low speed.
Look for large cruising vessels that leave a deep yet high wave behind them. These create some epic wake that I love to challenge myself on.
Pro-tip: Don't go out there and do this alone as it's quite risky. Also wear your protection gear when riding waves such as a helmet, gloves and thick-as-possible PFD.
2. Go Jet Ski Fishing
It's become quite popular in recent years to head out jet ski fishing. In fact, Sea-Doo came out with their own unique model specifically for riders who are mostly using their ski to drop some lines in the water.
Generally, you'll go jet ski fishing on your own, so this isn't so much a group activity. Nonetheless, it's lots of fun and we've written an extensive guide here and a list of fishing accessories here to make your life easier.
3. Tow Tubes, Waterskiers and Wakeboarders
This is where the real fun starts to happen! If you have a more powerful ski (i.e. NOT a Sea-Doo Spark) then you can tow tubes and have some serious fun. Of course, the Spark can tow tubes as well but at low speeds and it's quite a drain on that poor slow engine. They can tow wakeboarders and skis with less of an issue given there is less drag on the water.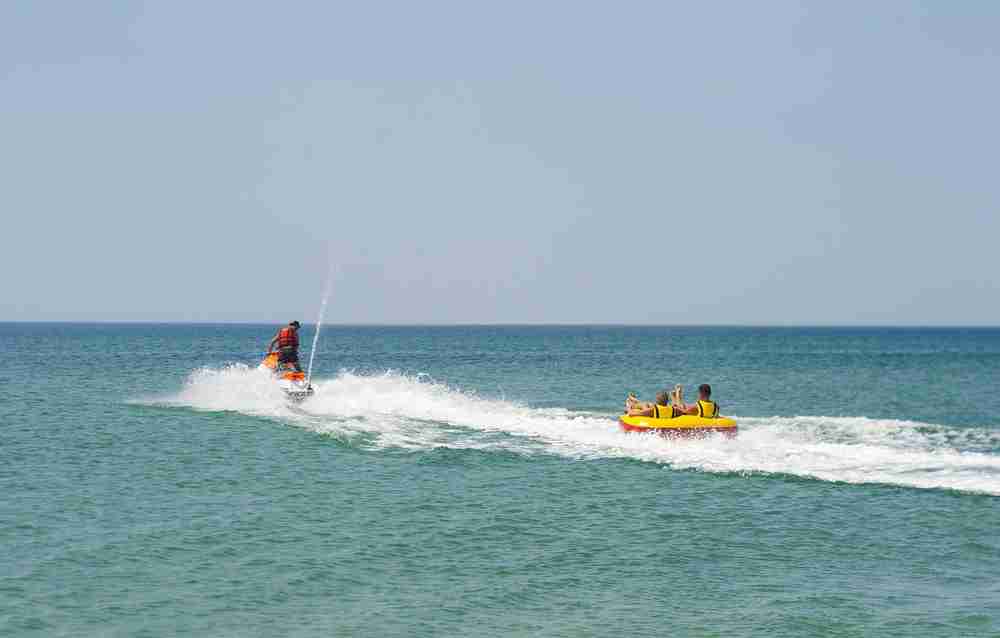 There are numerous tubes to tow out there. I'd recommend max 2 people on any tube of 3 children. One of the challenges is that there isn't much space on a jet ski in case they need to be rescued, given that legally you can only have 3 people on there at a time.
4. Race Your Buddies
If you get a jet ski, then next week your buddy is probably going to get one too. It's an addictive hobby after all, albeit a little expensive at the same time. If you're looking for true fuel burn, then it's time to start up some obstacles and friendly racing. ????
Look for areas where you're not restricted with speeds. Some waterways are 25 or 40 knots even when there is no one else around. Also, keep it friendly and a good distance before the both of you since jet skis don't have brake lights and it's hard to see a ski slowing down behind a wake.
5. Go Camping With Your Jet Ski
Did you know that you can load up your camping gear on your jet ski and head out on a single-night or multi-night adventure? It's starting to rise popularity and it's something that I'm looking forward to doing next weekend actually.
In fact, I've written a guide on exactly how to do this right here.
6. Explore Islands
Island hopping with your jet ski is pretty fun in both salt and fresh water environments. Given the low draft, you can really get up there on the beach and anchor yourself in good.
This is where parking some flip flops or sandals will come in super handy. Make use of that front locker and don't forget to take the keys with you while you're exploring inland.
7. Go Hunting
I recently found out that some guys use their jet skis to go hunting. The mobility of these vessels allows you to get into some pretty remote areas and hunt for deer, pigs and goats pretty easily. I'd recommend that you pack some boots so you can trek cross-country more easily.
8. Tow Surfers Into Waves
If you're bored and want others to have some fun, then you can find some buddies who are ready to take on some big waves. Some states and juristrictions have restrictions on jet ski usage for towing big wave surfers, so it's best to check before heading out. For instance, they restrict them to competition-use only but others allow you do this without an issue.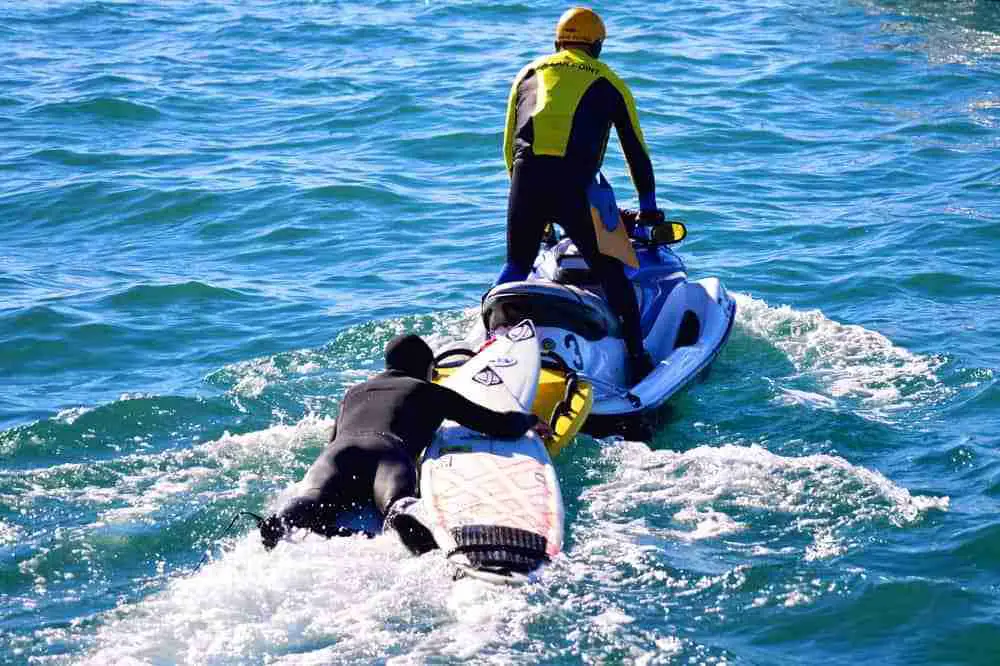 9. Head Out Whale Watching
Instead of paying a fortune for a whale watching tour, you could use your ski and get out there to see as much as you want right up close. I've found that it's truly a game of patience and persistance. Sometimes you won't see whales for days but at other times, they're surfacing every 10 minutes. Keep your distance and pack the DLSR camera!
In Summary
There we have it! Some really cool and creative ways to have fun with your jet ski instead of just riding it around the waterways. It's truly a multi-functional vehicle which has its merits, as much as the authorities want to police our fun.
Be respectful and responsible and I'll catch you out there. 😃