Have you ever wanted to jump on a jet ski at Long Beach or San Pedro and head over to explore Catalina? Every year thousands of keen enthusiasts do this journey.
Assuming you have some riding experience, it takes 40 to 75 minutes to get to Catalina from the Long Beach boat ramp if you ride your own jet ski. If you choose to join an organised tour, then it will take up to 2 hours as they cater for new/inexperienced PWC riders who ride much slower.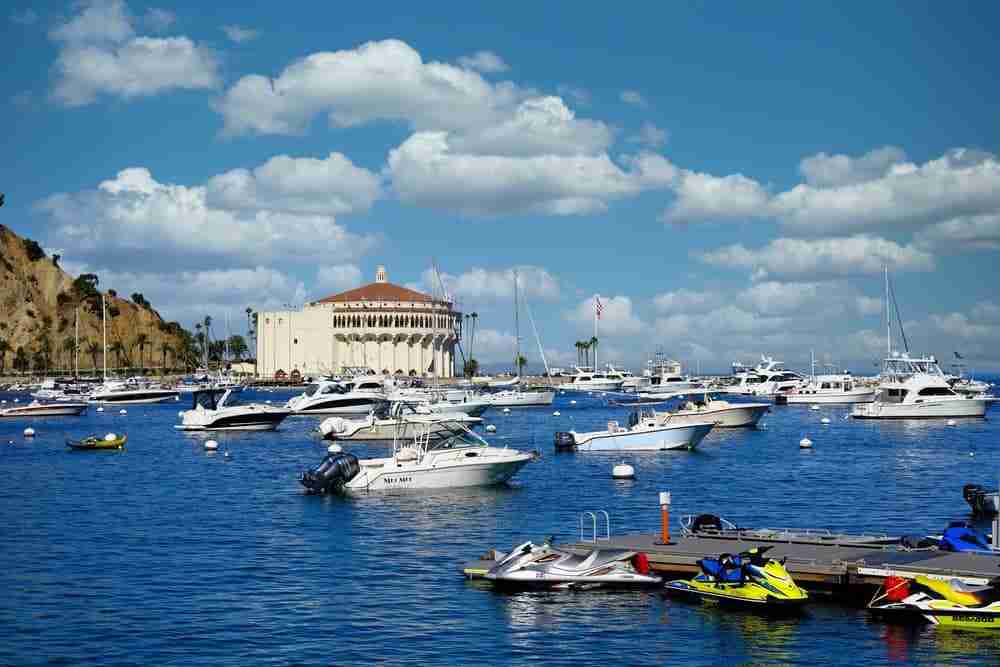 In this guide, I'm going to help you plan a trip to this beautiful island and soak in the sights and sounds. Let's do it safely so you can return back to the boat ramp in one piece in the same afternoon.
Planning a Catalina Jet Ski Trip
One of the best experiences that one can have is riding in the open ocean to Catalina on their new PWC. It's something that is often recommended by the local Sea-Doo, Yamaha and Kawasaki dealers though a trip of this length requires some pre-planning.
Here are some things to keep in mind:
Weather Conditions
While a lot of the tours proclaim that they run year-round, this doesn't imply that they'll go out in adverse weather conditions. Anything above 10-knots makes us really feel those bumps while 15-knots is considered to be the upper limit. If you see a forecast for 20-knots then forget it as the chop will mean you either return early or you come back very battered to the boat ramp. Despite the sheltered nature of the Long Beach to Catalina run, it still has some exposure to the heavy seas.
Pack the Right Gear
There are some things that I would recommend that you pack for a Catalina jet ski trip. This includes a mobile phone, EPIRB (spot tracker is acceptable), spare water, tow rope and a full tank of fuel. Some riders also choose to wear a helmet just in case an accident occurs given how far medicare assistance is. Safety first out there!
Join a Group Ride
Did you know that there are several jet ski groups/clubs in California that welcome riders? One of their most popular trips is the Catalina Run which goes around once per month. My suggestion would be to jump into one of the local groups and read through the main feed. You'll find these events or at the very least, some people who are keen on a ride any time of the week or weekend.
Taking Extra Fuel
It's unnecessary to take extra gas cans on the back of your jet ski if you're heading for a trip over to Catalina as there are 2 marina fuel docks on the island. Some jet skis can actually do a return trip without refueling. However, if you're heading into windy conditions and have a Sea-Doo Spark then you'll want to bring some cash to fuel the tank up again, or at least plan this into your itinerary.
Where to Park Your Jet Ski
Avalon Beach and Two Harbors are the most popular places to park your jet ski and explore the island. If you're there on a weekend then try and get there early before half of Los Angeles rocks up otherwise it gets really busy. As for overnight parking, I recommend paying the fees for either Descanso Bay, Hamilton Cove or Avalon Harbor which is quite secure and they may have dry docks. I certainly wouldn't beach the ski overnight and expect it to still be there in the morning, despite how safe the island is.
In Summary
A trip doesn't require extensive planning though you'll need to know where to start, when to go and what to pack. I hope this guide has helped you to have the best day out there on the water.
Have fun and I'll catch you out there! 😃