So you're looking at buying a jet ski and you're not sure whether you should go to the dealer or look up Craigslist. Let me show you the way forward.
The age-old debate of new jet skis compared to used jet skis always creates an interesting discussion. Today I'll show you which one is best.
Through this, I hope that you can spend less time thinking about it, and get closer to the dream of personal watercraft ownership. Let's begin!
Jet Skis: New vs Used
Now there is nothing wrong with either choice. Everyone has a different budget and desires. Both have their pros and cons. In fact, I'm going to unpack each.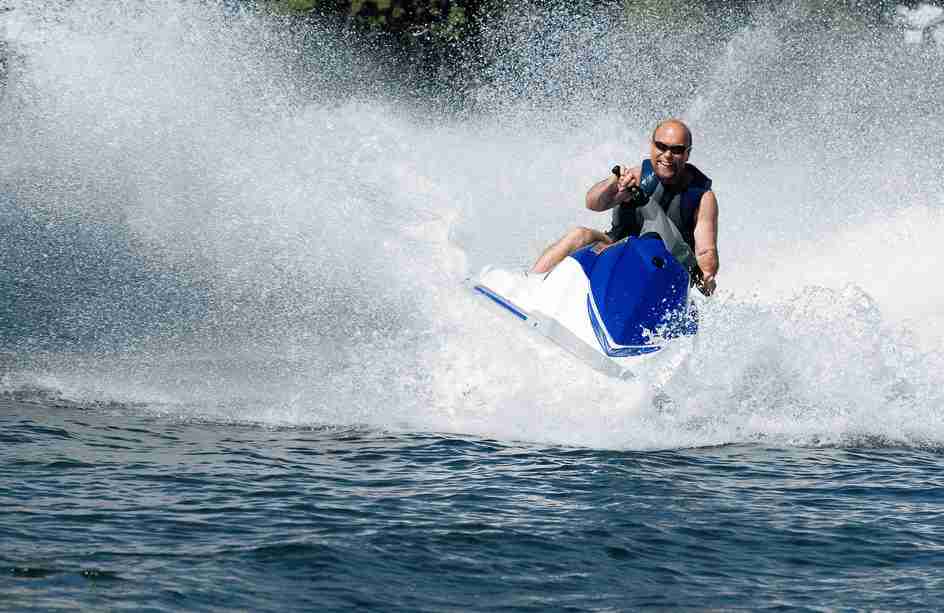 New Jet Ski
At a glance, I'll show you my perspectives.
| | | |
| --- | --- | --- |
| NEW PWC | Pros | Cons |
| Power | More power to play with since jet skis get better each and every year. You know the power hasn't been tapped out yet. | The jet ski hasn't been run in yet, so it's likely that you'll have a few issues. You also can't go blazing fast right away. |
| Warranty | You get a 12 or 24-month warranty from the factory | The warranty has limitations and won't cover everything such as user-induced damage. |
| Pricing | Can sometimes get a dealer discount depending on the time of year. | Massive depreciation. Most jet skis lose $2,000+ the day they are taken from the dealership. |
| Modifications | You can ask the factory to add in additional mods and accessories which are made by the manufacturer | If you add in your own modifications, then this can be a breach of warranty, especially if it relates to the engine. |
| Condition | Brand new! You know this machine is totally MINT. | You'll be afraid to scratch it on the sand or river beds. |
| Group rides | You can keep up with just about anyone else on a group ride (Except if you're riding a Spark that is) | Might create some jealousy when you rock up to the boat ramp with your shiny new toy. |
| Theft appeal | There aren't many other identical others who have the same ski as yours, so recovery is easier | Greater resale value on the black market makes your new jet ski a real target for thieves. |
Most people never really sit down to draw out the advantages and downsides like this. I hope this is useful!
Used Jet Ski
On the flip side, let's have a look at the used market. PWCs here have both advantages and disadvantages too.
| | | |
| --- | --- | --- |
| USED PWC | Pros | Cons |
| Power | The jet ski has already been run in so you know that you can twist to full throttle and ride into the sunset. | You don't know just how much abuse the previous owner put your used jet ski up to. |
| Warranty | Generally used jet skis don't come with a warranty so you can do any modifications you want. | If you need a top-end rebuild or additional parts, you'll need to pay out of your own pocket. |
| Pricing | The cheapest way to afford a high-quality jet ski. | Harder to obtain finance on a used jet ski. |
| Modifications | Many used parts are available on eBay to increase the performance and make your jet ski go faster. | Some go overboard with modifications on used jet skis which could lead to fires or engine destruction. |
| Condition | You know that it's already been used, so you won't cry the day you put a mark in the footwell or on the hull. | The previous owner could be hiding superficial damage or a repair job from a previous crash. |
| Group rides | You'll fit in well with most group rides since 70% of riders have used jet skis. | Might not be able to keep up so well, so you'll be near the back of the group ride. |
| Theft appeal | Thieves are less likely to steal a used jet ski because the hours are higher. | There are so many others who have a jet ski just like yours, so finding it once stolen is harder. |
Overall, most people do choose to buy a used jet ski with low hours over a new one. The scope of what you can do and the money you'll save is worth it.
Summary
Both the used market and the new jet ski market serve people just fine. When you look at a new jet ski vs used, you soon realize that both are excellent options.
If you're on a budget, I would recommend a used jet ski. In fact, I would recommend a used recreation jet ski over a new rec-lite jet ski, because you'll just get better performance.
In recent years, jet skis have become more reliable with longer engine hours possible. Some hire shops reach 2,000+ engine hours on one PWC before replacement, and I've even met one who never cleans out their engine bays! If you're curious…they were using the Yamaha EX models.
For that reason, buying a used jet ski is a wiser choice if you're new to the personal watercraft market. After 6 to 12 months of riding, you can make that decision as to whether you should upgrade.
I've also done another comparison post on renting vs buying:
See you out there!