People who are new to jet ski riding often ask me what they should be wearing and naturally, I give them some good advice. Surprisingly, so few actually ask what they shouldn't be wearing.
Bikinis and Jet Skis
Women often come along as pillion passengers on jet skis, whether as a date idea or some fun with friends. Some choose to take the controls which is seriously fun. If this is your first time, then heed this warning:
It's dangerous to ride a jet ski wearing just a bikini. While it looks atheistic in brochures, marketing materials and on Instagram reels, it isn't realistic or safe to wear such little protection. At high speeds, you can severely damage your skin if you were to crash or simply fall off.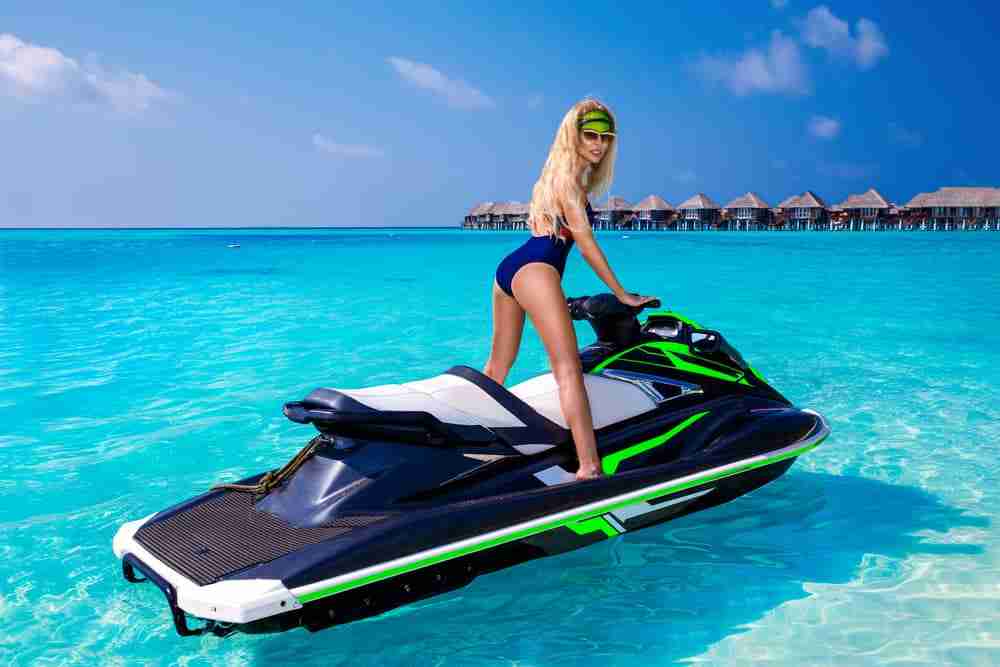 Let's not forget that wearing so little puts you at risk of skin cancer, especially in Australia where I live. Essentially, you'd be crazy to go almost naked on a jet ski at high speeds.
What You Should Wear
Well then, what should women wear while riding along as a passenger on a jet ski?
In an ideal world, I'd recommend a full-size wetsuit but this may not be practical where you live. For instance, it may be too hot or you may not have access to one. Likewise, they can cost upwards of $300 and probably not something you'll be wearing often.
Aim to wear a rashie at a minimum to cover your chest area. You'll find these at most sports stores for under $50. This O'Neill rashie on Amazon will give some basic protection for women riding jet skis.
You can also dig up an old pair of yoga pants to protect your legs. You'll need to wear underwear with these in case they split. This can happen as the material can become quite wet and salt water and sand can make the material brittle.
You might also want to wear a helmet and jet ski shoes too to make your day our riding so much better. These not only offer UV protection but take away any potential 'sting' if you crash.
What Could Happen
Falling off at high speeds means that you'll get a nasty sting as you make contact with the water. Sure – your life jacket will give some protection to your chest and back area, but your legs, arms and hands will be exposed. Trust me – it's gonna hurt!
That said, if you're traveling at under 20 knots, then it's reasonable to wear just a bikini. Even for just some Insta-glam shots. You're unlikely to fall off unless it's really choppy and any contact with the water will be mild.
Under 40-knots and you can get away with normal beach attire on a jet ski such as shorts, t-shirt or rashie. Not preferred but if you rarely go out riding, it's a good start at least.
The jet ski hire businesses near me are often happy to take people on tours wearing normal beach clothing. They always stick to under 40 knots and rarely have an issue, provided the waterways are calm.
In Summary
It doesn't cost a fortune to give yourself some protection out there on the water. Shorts and a T-shirt aren't quite adequate and might irritate your skin. For novice riders/owners, a normal rashie is reasonable while a full-size wetsuit is preferred once you start going beyond 40-knots.