The 2022 model Yamaha Ex and Sea-Doo Spark are perfectly suited to those entering the world of personal watercraft. Let's see which one is better.
In earlier days the fun and excitement of jet skis were far out of reach. Today that has really changed with the introduction of the rec-lite category.
Through this guide, I'll unpack the 2022 Sea-Doo Spark and compare it to the Yamaha Ex by the numbers including price and power capacity.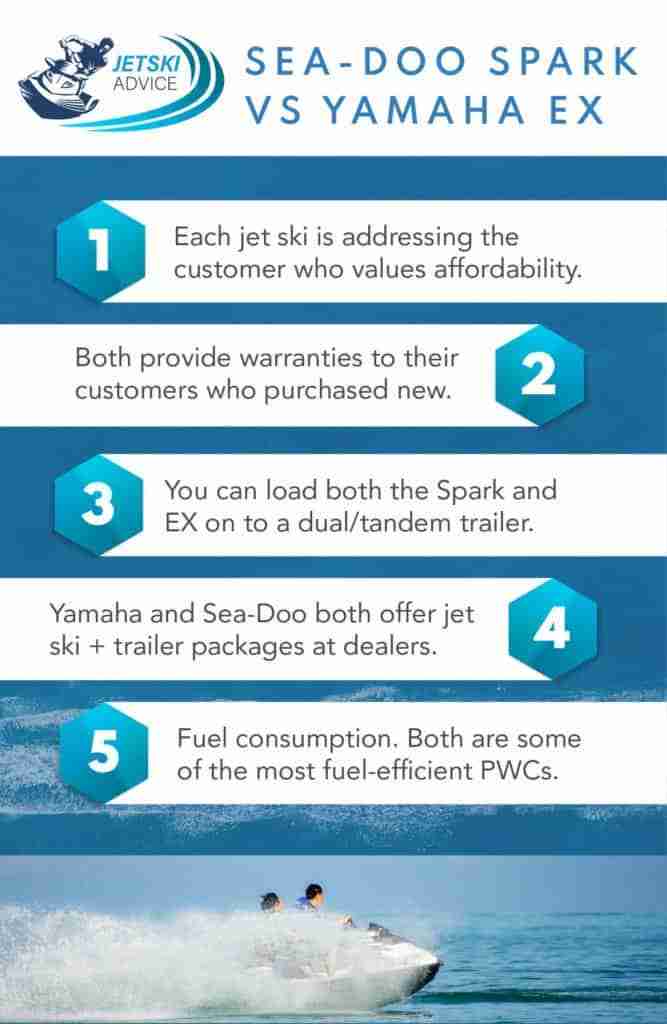 With this new breed of cheaper personal watercraft, it makes the thrill much more accessible. While performance is largely tame, let's have a look at what each model delivers.
If you're new to the world of personal watercraft, then Jet Ski enthusiasts are very much polarised. You've got the Yamaha fanboys and the Sea-Doo fanboys. No matter what – each will say theirs is best. We really need to get down to the numbers.
Yamaha Ex vs Sea-Doo Spark
By the numbers, we can see that each machine is relatively close in their specifications. I'll compare this for both those in Australia and those in the United States.
2022 Sea-Doo Spark 2-UP
2022 Sea-Doo Spark 3-UP
2022 Yamaha Ex
Pricing in USD
$5,699
$6,990
$7,199
Pricing in AUD
$8,769
NA
NA
Stock Horsepower
60
90
1049cc / 100hp
(Approximates)
Upgrade Capacity
None
None
Limited
Maximum Passengers
2
3
3
Towing Tubes
No
No
Yes, but limited
Dry Weight
410lbs / 186kg
425lbs / 193kg
577lbs / 261kgs
Wet Weight
520lbs / 235kgs
543lbs / 246kg
601lbs / 272kgs
Weight Capacity
352lbs / 160kg
450lbs / 205kg
529lbs / 240kgs
Measurements (L x W x H)
110″ / 279cm
46.4″ / 118cm
41″ / 105cm
120″ / 305cm
46.4″ / 118cm
41″ / 105cm
120″ / 305cm
45″ / 111cm
43″ / 112cm
Fuel Capacity
7.9 US gal / 30L
7.9 gal / 30L
13.2lbs / 50L
Front Storage Space
7 US gal / 27L
7 US gal / 27L
8 US gal / 30L
Colors Available
Black + Orange
White + Blue
Lime + Blue
Black + Orange
White + Blue
Lime + Blue
Yellow + White
(US model)
Red + Black
(Australian model)
Assembly
Imported
Imported
USA / Australia
So we can instantly see some clear distinctions, but also similarities too.
Australians get access to the red + black EX which in my opinion looks a lot better and more like a performance jet ski. It doesn't do much justice to Yamaha with their dull yellow + white color scheme on the EX.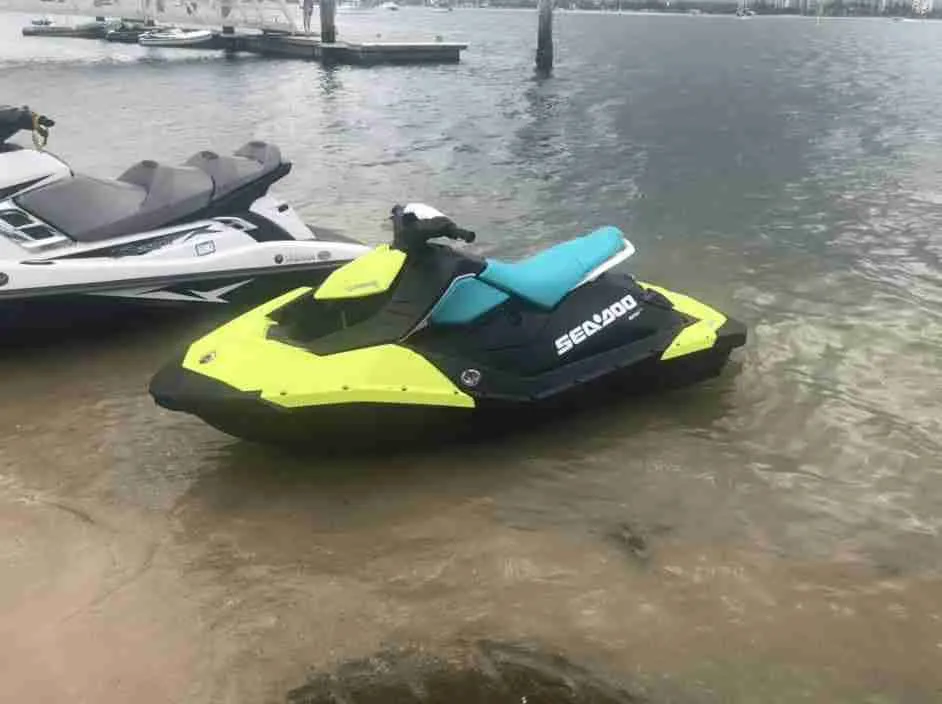 The EX Advantage
While the Yamaha Ex does cost extra to purchase, it comes with a host of advantages:
More power to have fun (Beyond the rec-lite category)
Greater fuel capacity so you can get further away from the boat ramp.
A heavier weight which equals a more enjoyable riding experience.
The ability to tow tubes, though this is really limited to low speeds.
It's much easier to mount a jet ski and fishing rod holders.
I would say the EX certainly stretches beyond the recreational-lite segment average offerings.
Their higher spec models such as the Ex Sport, Ex Deluxe and EXR are certainly more powerful.
Now, let's drill down a little further.
Power On Tap
The 2021 Sea-Doo Spark has 600 ACE engine producing 60hp, or for the additional outlay, you can choose the 900 HO ACE option which provides 90hp.
You'll have a lot more fun with the 90hp output and will struggle to bring passengers with just 60hp on tap.
Can-Am isn't really famous for their reliable engines.
The Spark models, however, often have fewer issues.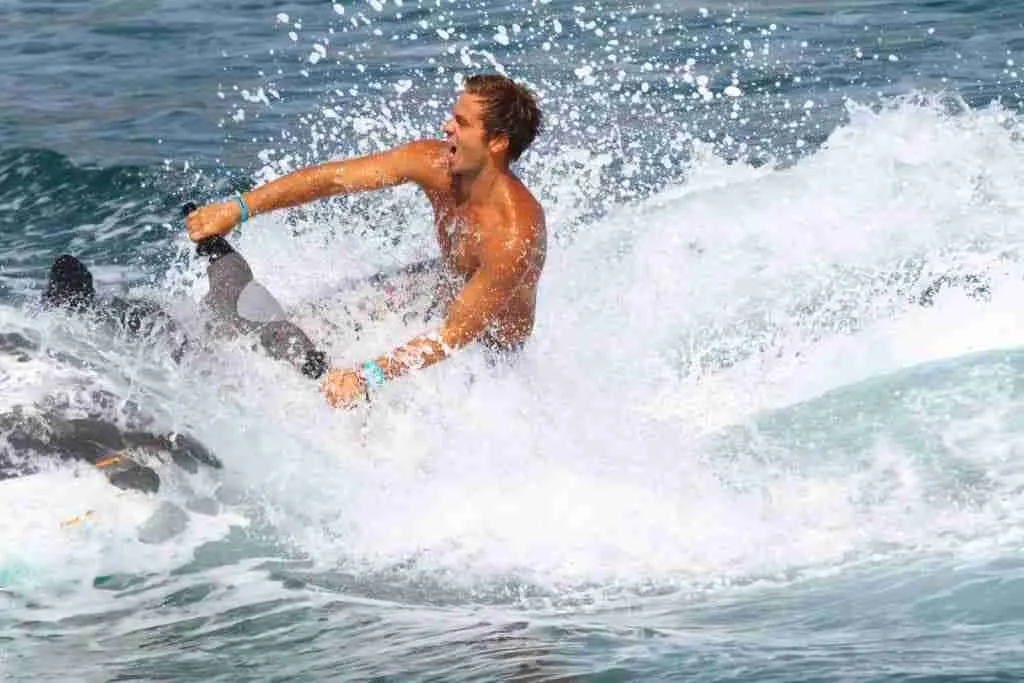 The 2022 version of Yamaha's Ex has a more reliable engine producing 1049cc or approximately 100hp.
It is a slightly heavier personal watercraft, so which there appears to be greater performance than the Sea-Doo Spark offerings, this is negligible.
Both provide a mild amount of power for the first-time person entering the PWC market.
Extra Features
The fuel tank capacity is greater with the EX, but also so is the storage capacity.
I like Yamaha's choice of touring and sport mode.
Now, this performance is very tame in my opinion when comparing this today against their legendary performance machines.
The Spark comes with a well known closed loop cooling system.
I believe this is more superior in their technological offering.
At the same time, you'll have more maintenance needed to keep it in top shape.
Tow Sports
The Sea-Doo Spark models are terrible choices for tow sports.
The likelihood of towing a tube or waterskier is very limited as the power on tap is so minimal. That isn't to say that you can't tow someone – it's just going to be more challenging.
On the flip side, you can tow tubes and skiers with the Yamaha EX. Given the power limitations, I wouldn't recommend it. If you have the budget, I would purchase a slightly more powerful jet ski than either of these two if tow-sports are your main activity.
Affordability
It's clear that the Yamaha EX is more expensive than the Sea-Doo Spark.
If you're looking for the cheapest jet ski on the marketplace, then you simply can't go past the Sea-Doo Spark rec-lite range.
It's clear that Can-Am has addressed the affordability issues with jet skis.
But with a cheap jet ski comes the real downside of limited fun.
I mean – you're out there to have a smile on your face without the restrictions!
After just a few months you're likely to get bored and wish you had a more powerful jet ski.
I would actually recommend that you hire a jet ski first. See- most rental shops use the Yamaha EX or the Sea-Doo GTI 90/130.
This is because, while the Spark is cheaper, it has its slight limitations in performance.
Similarities
It's great that I can compare both jet skis quite fairly. This is because they are alike in so many ways.
Let's have a look at some key points:
Each jet ski is addressing the customer who values affordability.
Both provide warranties to their customers who purchased new.
You can load both the Spark and EX on to a dual/tandem trailer.
Yamaha and Sea-Doo both offer jet ski + trailer packages at dealers.
Fuel consumption. Both are some of the most fuel-efficient PWCs.
While the EX does cost more, here in Australia you'll see Yamaha Motor Finance often providing rates at just 1% to its customers to incentivize them to make a purchase.
You might also see the same type of deals in the United States.
Summary of Comparison
If you can afford it, I would get a Yamaha EX. That said, the Spark does pack a great value offering.
My opinion is that Yamaha EX is just slightly better than the Sea-Doo Spark models because often people just have much more fun with the EX. This is despite me being more of a preference towards Sea-Doo as a brand (though you wouldn't consider me a fanboy by any means…)
With the EX you'll have more power and enhanced personal watercraft stability, though the Spark is only marginally behind by 3%. Like really….that close!
For a 1st-time jet ski user, each both delivers a fantastically affordable way to enter the fun on the waterways. Either way you go, you'll actually just have fun either way!
Catch you out there!