Let's imagine that the stars aligned in the universe and you're showered with a large chunk of moolah that needs to be spent on an investment…like a quick PWC! They're investments, right?
Well, that's a discussion for our accountants to figure out. It's great spending the time to research and figure out what the rich guys are buying.
Now, you'd be mistaken for thinking that Yamaha and Sea-Doo have fast jet skis. Instead, that title belongs to a German company.
The fastest commercially-available jet ski that individuals can purchase is the Mansory Black Marlin 550, a model based on the Sea-Doo RXT-X 260RS. With a tune-up to 550 horsepower all powered by its supercharged 1,494cc Rotax engine, speeds of more than 80 miles per hour are achieved. Pricing as of early 2021 is almost $70,000 US-Dollars.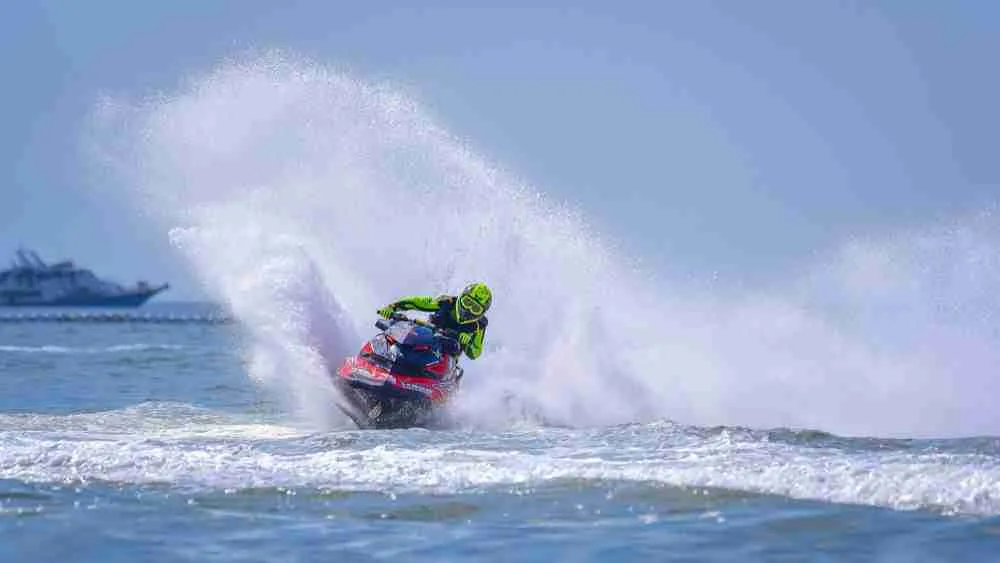 How does this machine get so friggin fast and capable of reaching highway speeds within seconds of pulling on the throttle? Well, let's take a look.
The Engine
To achieve such impressive specs, the team at Mansory have put in 10,000+ man hours to create this weapon for the waterways. I'm always surprised that the legendary Rotax engine can be tuned right up to such an extent and I certainly can't wait to see the performance of electric jet skis in the very near future.
Body Work
The body of the Black Marlin is actually different than Sea-Doo's base. They've used computer modelling to ensure that less drag is experienced. What you'll get is a more aggressive design which is dynamic and even somewhat futuristic.
Removing Unnecessities
Just like removing the spare seat from race cars, the team at Mansory have removed any additional weight including the speakers and anything else which could potentially slow you down. The body plastics were even removed and replaced with lighter carbon fibre, and combined has saved almost 10kgs. They even changed the seat given the existing leather seat is quite heavy.
Constant Improvement
The team may not be selling a huge among of these models (I think less than 20 are on the waterways of the world right now) but they're seeking to constantly improve the characteristics and eventually lower the price. For now, at least, you'd be looking at owning one of the coolest looking personal watercraft that will certainly turn heads at the boat ramp.
Other Fast Jet Skis
Of course, there are notable additions to this list. The type that you should consider as a slightly tuned down version fo the Black Marlin 550 yet they're just as powerful.
These include Kawasaki's 2021 Ultra 310R as well as Yamaha's GP1800R SVHO and its legendary EXR model. These are seriously tough to contend with and not for the faint-hearted. If you simply want one of the best jet skis that not just goes fast, but is great to live with, and is affordable too, then the Sea-Doo GTI is plentiful.
If that's your first jet ski, then you might find (just like I did) that it's all that one really needs to have fun out there in both fresh and salt water environments.